Hundreds of passengers stranded because of a faulty Tube train are to be given £40 each in compensation amid claims that London could become an Olympic "laughing stock" because of transport problems.
More than 770 passengers had to be walked through tunnels on Wednesday night because of problems on the Jubilee Line.
Among those delayed by the train failure were some of the Queen's guests for her Diamond Jubilee celebration at the Royal Academy of Arts attended by celebrities from the arts and fashion worlds.
There were fresh problems on Thursday morning when a signal failure at Embankment led to severe disruption on the Circle and District lines.
London Assembly Member and Labour's transport spokesman Val Shawcross said: "The Olympic Games opening ceremony is now less than nine weeks away and still ordinary commuters are being hit by delays caused by faulty track, faulty trains and faulty signals.
"Passengers on the Jubilee Line have endured months of shutdowns for maintenance and upgrade works that were supposed to stop this happening. So why are there still issues with the line? What will happen if the chaos happens during the Olympic Games? Quite simply the Mayor needs to get a grip, otherwise London could end up as an international laughing stock."
Nigel Holness, London Underground operations director, said: "The Hammersmith and City line is operating with minor delays following an earlier signal failure at Barking, and the Circle and District line has severe delays due to a signal failure at Embankment.
"TfL engineers are on site working to resolve these issues as quickly as possible, and I wish to apologise to all passengers for the inconvenience that they have experienced on our network during the last few days."
He also apologised for Wednesday night's disruption, saying: "This was caused by a faulty train between Baker Street and St Johns Wood which led to the suspension of the line between London Bridge and Finchley Road.
"Our staff tried to move the train, which stalled at around 1735hrs, using a train to push it from behind. This was not successful and we subsequently took the decision to walk passengers off the train
"This is clearly not the level of service our customers have a right to expect, and we will be refunding those affected."
LU drafted in additional staff from its special requirements team to help passengers off, saying they could not be disembarked sooner as it was thought the train could be pushed forward using the other train. However this was not possible, partly due to the gradient of the tunnel.
LU said it will pay £40 to everyone stuck on trains last night who had to be walked through tunnels.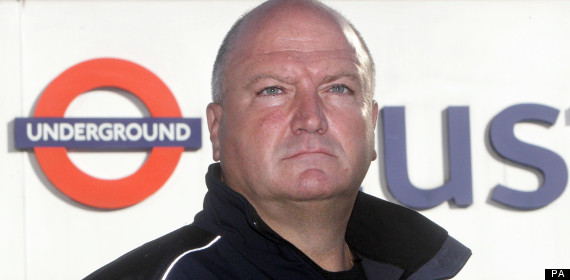 Bob Crow: "This is shaping up to be a pre-Olympic London transport week of hell."
A passenger caught up in Thursday's Tube delays said she took three hours to travel from Liverpool Street to Victoria, adding: "There was little or no information - the only thing we were told was that we were going nowhere. I had to catch a bus instead - and they were all packed."
Mike Brown, LU's managing director, said: "The Tube is staffed and maintained to the highest standards and to a level that has made it the safest significant sized railway in Europe. The fact is that we have just recorded the most reliable year on record, carrying more passengers than ever before and operating more services. But we will never be complacent and accept that in the last few days our customers have not had the level of service they are right to expect.
"That is why we and the Mayor are committed to working to improve reliability even further as we go into this exciting summer for London."
Bob Crow, general secretary of the RMT transport union, said: "This is shaping up to be a pre-Olympic London transport week of hell with London mayor Boris Johnson and his officials claiming a brilliant service while millions of Londoners know better.
"We are paying a heavy price for a programme of cuts to staffing and maintenance that has reduced the transport system to total chaos just weeks away from the Olympics and the blame lies firmly with the mayor and his senior officials."
There were also delays on Thursday on mainline services run by the CrossCountry and East Midlands Trains companies.
This was due to a signalling problem in the Ambergate area of Derbyshire.
Buses had to replace trains between Matlock and Derby, extending journey times by up to 45 minutes.
Trains between Chesterfield and Derby were also diverted.