Former Miss World and Bollywood star Aishwarya Rai appeared to shrug off controversy over her weight as she hit the red carpet in Cannes last night.
Looking classically beautiful in a gold and brocade sari, Rai attended the amFAR Cinema Against AIDS Gala at the Hotel du Cap Eden-Roc, in Antibes, France.
With a loose up-do and her trademark eyeliner, Rai looked serene following the storm over the extra pounds she has carried since giving birth in November.
Scroll down for more pictures of Aishwarya Rai and a video apparently revealing her 'shocking weight gain'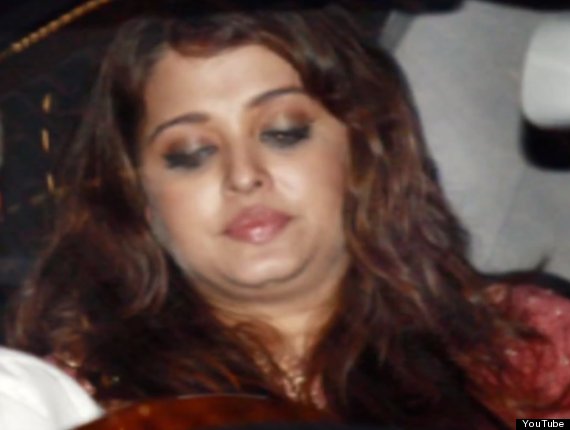 This picture of Rai sparked an intense debate in India about motherhood and weight gain
She told the Hindustan Times: "The baby's here in Cannes, but not with me tonight, she's doing well. I can't complain about being busy with the baby because hectic is always being redefined in my life.
"It was easy to come tonight because I'm not making any films."
The baby weight furore began after a picture of Rai sporting a double chin as she climbed into a car after a party emerged.
Since giving birth to daughter Aaradhya, Rai has publicly stated she is in no hurry to drop her extra pounds, preferring to "enjoy motherhood".
But the pictures sparked an intense debate about motherhood, weight, and the apparent "obligations" of those in the public eye.
The Sydney Morning Herald quoted showbiz columnist Shobhaa Dee: "Aishwarya is like a goddess. She is held up as the idea of beauty and so there is an expectation for her to look perfect at all times."
A video clip comparing pictures of Rai in her heyday and following the birth of her child was posted on YouTube, illustrated with the sound of a trumpeting elephant.
The accompanying blurb says the 39-year-old "seems to be looking rather plump instead of losing some of her flab after the baby's delivery."
It adds: "The Bachchan bahu seems to be taking motherhood very seriously and seems to have shockingly put on at least five to six kilos."
SEE ALSO:
While many of the comments branded the video "disgusting" and "pathetic", others expressed agreement with the sentiments.
One wrote: "The woman is in the public eye. Her baby is seven months old and she looks like she gave birth yesterday! Not to mention the double chin! Sorry, many of us have had kids and worked hard to lose it. Motherhood doesn't give you license to be overweight."
Cinema professor Shohini Ghosh told The Guardian: "There is a glorification of motherhood in India and Indian cinema. But people are confused because they don't know whether to glorify Aishwarya in her new motherhood or lament that she is not looking like a runway model."
Rai is the brand ambassador of L'Oreal and has been attending Cannes since 2002.
In a statement quoted by International Business Times, Rai issued a statement saying: "This year, I am especially privileged as I also get to lend my support to a very important cause at the amfAR dinner, by helping raise funds for the fight against AIDS, at the AMFAR auction.
"It makes me proud that L'Oreal Paris sponsors and supports our fight against AIDS through this special amfAR event at Cannes."