Ahead of the Queen's Diamond Jubilee celebrations over the weekend of 2-5 June, a vast poster depicting the Royal Family 25 years ago for her Silver Jubilee is being put up by the Thames.
The poster, measuring tens of metres in area, shows Princes Charles, Edward and Andrew, Earl Mountbatten, Prince Phillip, Mark Phillips and Princess Anne alongside Queen Elizabeth as she waves to the amassed crowd outside Buckingham Palace all the way back in 1977.
The poster, officially unveiled on Friday, measures exactly 100 metres by 70 metres and weighs nearly two tons.
It will remain in place for the whole of June, marking 60 years of the Queen's reign.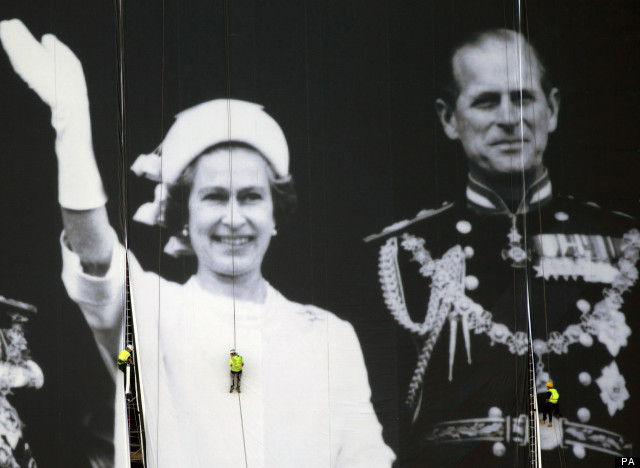 Among other celebrations over the Jubilee weekend, the Queen will attend a concert outside Buckingham Palace featuring the likes of Sir Paul McCartney, Dame Shirley Bassey and Stevie Wonder, as well as more contemporary talent such as Jessie J and JLS.
There will also be a service at Westminster Abbey, two lunches, another reception and a 1,000-boat gala on the Thames.
The Queen is only the second monarch to reach 60 years of reign, after only Queen Victoria, who reigned for 64 years between 1837 and 1901.