We do love a celeb feud here at HuffPost Celeb, and one of our faves of all time was the long running spat between Katie Price and Victoria Beckham.
So we're overjoyed to see that Katie is putting in her best efforts to annoy Posh again.
The model tried to ruin any credibility Posh had as a serious designer by donning one of her dresses.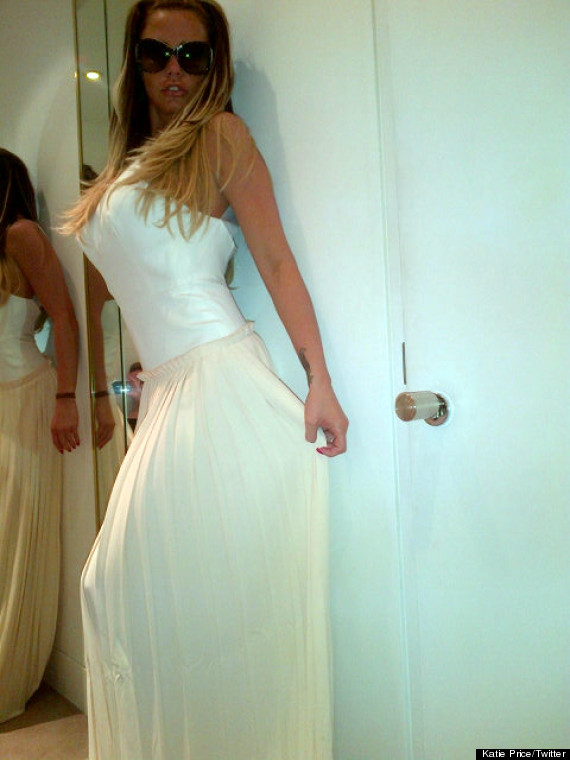 We can see the steam coming out of Posh's ears from here.
Last month Katie blasted Posh for being "senile" after the size six star claimed she "stood for the general public". And if you thought the white number looked a little familiar, you'd be right as Cheryl Cole wore the it to the premiere of What To Expect When You're Expecting earlier this week. Sure she's chuffed about Katie wearing it now too.
As Katie uploaded the pic of her wearing the flowing gown to Twitter, she wrote: "Love my new Victoria Beckham dress"
It wasn't long before Katie was bombarded with messages on the social networking site, most notably Lord Sugar, who asked if she was about to tie the knot.
"Looks like a wedding dress, you getting married ?" he jokingly tweeted.
Ah, we do love Al's dry wit.
Katie soon replied: "haha nooo this isn't for my wedding I'm not even divorced yet!! I won't be rushing either xxx"
> CHERYL WEARING THE DRESS ON THE RED CARPET
What To Expect When You're Expecting Europe Premiere