Luis Suarez has reignited the controversy over his racism row with Patrice Evra by claiming his suspension was "strange" and "unbelievable".
The Liverpool striker maintained his innocence despite an eight-match ban and £40,000 fine for repeatedly calling the Manchester United left-back a "negro" during the clubs' clash in October last year.
Suarez, 26, then refused to shake the Frenchman's hand when the duo came face-to-face for the first time during the Premier League reverse fixture at Old Trafford.
"The suspension, I suppose, you could call strange and unbelievable. Without a single shred of proof, they suspended me," he told Russia Today.
"I accepted it without saying anything obviously because they could have made [the suspension] longer and it would have just made the whole thing continue, but my conscience is completely calm, and so is that of the club and my family.
"There was not a single convincing proof that I had done any of the things they accused me of doing. I am very calm about all of it. I have played all my childhood and everyone knows that in Uruguay there is a huge black population. I had team-mates and friends of both colours all the time in the national team, in Liverpool, in Holland, where the majority [of players] are from Surinam, and I never had any problem with them.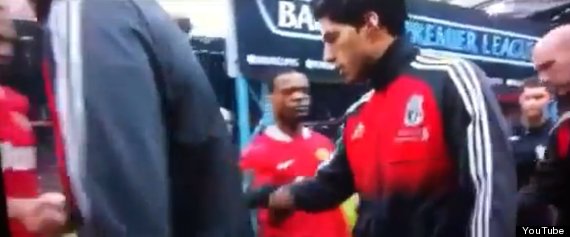 Suarez snubs Evra at Old Trafford
"It seems to me that they had to get rid of a Liverpool player and, well, they definitely were gratified by all of this."
Liverpool's director of communications Ian Cotton was sacked by Reds owners Fenway Sports Group, as the club supported the Uruguayan by having the first-team squad don T-shirts prior to their December fixture with Wigan Athletic.
Former manager Kenny Dalglish was also dismissed last week and drew much criticism for his defence of Suarez, even going so far as to suggest Suarez had not ignored Evra prior to the February match at United. The Scot was forced to apologise the following day.
Suarez said his wife suffered most from the ordeal, but was nonplussed when questioned as to how he would be treated by crowds in England in the future.
"What the English press has said about me does not interest me. What interests me is what they say about me in Uruguay and in Liverpool, and they have always been very supportive.
"After the suspension was confirmed, I was told that the fans would taunt me, they would whistle me, insult me and shout at me, but to be honest it is not something I was worried about or paid attention to. Everyone whistled me in all of the stadiums I played in all the time anyway, even before the allegation of racism. It was just the same. I tried to pay it as little attention as possible to focus on what I like to do, which is to play."
Last week Evra told BBC Radio Manchester the league match in Manchester was "the most pressure I've ever felt in my life" as he decided to shake his racial abuser's hand.