David Lawley-Wakelin, the man who interrupted former prime minister Tony Blair's evidence to the Leveson Inquiry, is an anti-war documentary maker who lists his political views on Facebook as "Blair and at least four of his cronies should be behind bars."
Lawley-Wakelin, the maker of a documentary called Alternative Iraq Enquiry, stormed into the inquiry into press standards on Monday shouting that Blair was a "war criminal" and linked money he was paid by investment bank JP Morgan to the war.
Blair said the claims were "totally untrue".
The 49-year-old described his film The Alternative Iraq Enquiry as a "TV documentary about one man's journey to Iraq to find out if the Iraqi's agree with his view that Tony Blair should be in the Hague for crimes against peace" on his LinkedIn page.
The 80 second clip of the 2010 film posted on YouTube features Lawley-Wakelin in Iraq where he asks people what they think of the 2003 war.
The video also appears to show him making an outburst on the BBC's Question Time, proclaiming from his seat in the audience: "This country is led by liars who are prepared to kill in the name of foreign policy."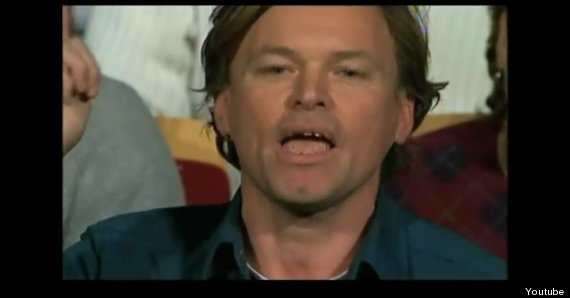 Llawley-Wakelin on Question Time
According to his IMDB, the film maker also worked on Time Team and Egypt Unwrapped.
It is understood the protester, who burst into the hearing directly behind Lord Justice Leveson, managed to get past security-coded doors to access the judges' corridor leading to courtroom 73.
He was arrested and released without charge on Monday afternoon.
A Scotland Yard spokesperson told Huff Post UK: "A man has been released with no further action. We are not aware of any other arrests."
The Leveson Inquiry had no comment to make on if they would be taking further action.
The Alternative Iraq Enquiry can be watched here:
SEE ALSO
Comments are closed on this entry for legal reasons