Tony Blair has said he felt the power of the British media was unhealthy while he was PM - but chose not to take it on as it would have prevented him from pursuing any other policies while in power.
Blair went into the Leveson inquiry on Monday looking relaxed, with his suit jacket thrown over this shoulder, and gave a near perfect Blair-style performance with all the familiar hand gestures thrown in.
Such was the clamour to see the former Labour leader's appearance that his journey through London's roads to the courts was followed live on Sky News by a helicopter.
Giving very little away during his early evidence, the former prime minister said he made a decision in the run-up to the 1997 general election to "manage" the press rather than "confront it".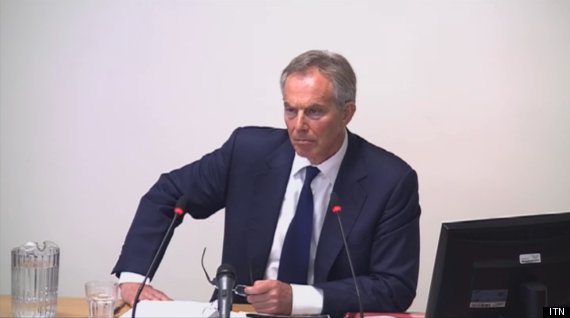 Tony Blair batted away a lot of the tricky questions put to him
"I took a strategic decision this was not an issue I was going to take on," he said. "I was trying to do a lot of things I believed in for the country and the Labour party."
"Had I bevelled that it was the most important thing for the government to do I would have done it.
"Had you decided to confront, everything else would have been pushed to the side, it would have been a huge battle with no gaurantee of winning."
A relaxed Blair said that to have launched an investigation into the ethics of the press such as the current Leveson inquiry would have eaten up his entire first term in government.
"My view is that you would have had to clear the decks, this would have been an absolutely major confrontation, you would have virtually every part of the media against you in doing it," he said.
"The price you would pay for that would be to push out a lot of the things you cared more about."
He added: "I was not going to have the Labour Party come back into power with a programme of change for the coutnry and having the centre piece to do with media ownership, I thought that would have been a distraction and wrong.
Blair remained calm even as a protester stormed into the court room to accuse him of being a "war criminal".
He told Leveson that his main problem with the way the tabloid press operated was that it too often merged comment with news - giving a distorted picture of the facts to the public.
"Those papers who are eurosceptic are perfectly entitled to be," he said. "What they shouldn't do is frankly make up a whole lot of nonsense and dish it up to the readers."
Blair said that once tabloids such as the Daily Mail decided to oppose someone then they came under "huge and sustained attack".
"You fall out with them and you watch out, because it is literally relentless and unremitting once that happens," he said.
Lord Mandelson told the Leveson inquiry last week that it was "arguably the case... that personal relationships between Blair, Brown and Rupert Murdoch became closer than was wise".
Blair famously flew to Hayman Island in Australia to address News Corp executives in 1995, as part of a Labour strategy to gain a hearing with newspapers which had savaged previous leaders Michael Foot and Neil Kinnock.
And it emerged last year that he formed a close enough relationship with Murdoch to become the godfather to one of the media tycoon's children in 2010.
However the former prime minister insisted that New Labour "decided more stuff against the Murdoch interest than in favour of it."
Blair admitted that he was "perfectly comfortable" with attempting to court the Murdoch press as it "really did matter" what was said about Labour in the media.
However he strongly denied he made any sort of "deal" with Murdoch whereby he would change policies in exchange for favourable press coverage.
"I was a pro-european when I came in, and I left in the same position. I did not change our position on core policy issues at all," he said.
Blair said that he did not fear News Corporation and that if it had decided to "wage war" on New Labour he would have "stood up to them".
"If they had started to treat me as they had Neil Kinnock, I would have fought back in a very tough way," he added.