Amy Childs has revealed she's to go under the knife again for her second boob job.
The 21-year-old former TOWIE star wants to get her assets enlarged from a 32C to a 32DD. In an interview with this week's new! magazine, she said: "When I first got them done, they were up here. They were so nice and pert. Now they're just really saggy and heavy. They give me backache too.
"All implants drop, but mine have especially. Maybe it's because I was too young and still growing.
"I've had all my consultations now and decided on a 32DD. I'm having them behind the muscle. My first ones were in front of the muscle but, this time, I'm going behind. It means they will stay up a bit more.
"A lot of people go for that now, but apparently it's more painful. I remember the pain from the first time. It's not the operation really, but the little scars underneath. Ugh, it makes me feel sick. And Amy hasn't been put off the op despite her friend Danielle Lloyd having to have a blood transfusion and her implants removed after docs found a blood clot following her breast op.
"You do hear horror stories and things can go wrong," Amy said. "All surgery has a risk though, doesn't it? That's why I've done my homework on who to go with."
But just because Amy's getting bigger boobs, don't expect her to be getting them out a la Katie Price anytime soon. Speaking about the comparisons to Jordan, Amy said: "I'm ready for that. But, hello, I'm not going to a G, I'm not going to an H, and I'm not getting them out.
"I'll have a bit of cleavage but I'm not going topless. We're not alike at all."
The full interview appears in this week's new! magazine, out today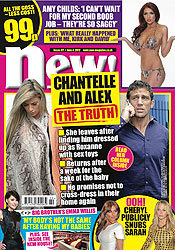 > ENTER OUR COMPETITION TO WIN ONE DIRECTION GOODIES
> CELEB PICS OF THE DAY