The Heysel stadium disaster in 1985 is an event which continues to cause understandable pain for Juventus fans, as their European Cup triumph over Liverpool faded into inconsequence as 39 lives perished.
One hour before kick-off, a large group of Liverpool hooligans breached a fence separating them from a neutral area which contained Juve supporters, who ran back on to the terraces and into a concrete retaining wall, seemingly away from the threat.
Those already seated near the wall however were crushed, before the wall collapsed, killing more supporters. Astonishingly, the game still went ahead despite bodies lying in the stands.
Twenty-seven years on, the scars are still raw. Antipathy amongst the Bianconeri support festers bitterly.
Fourteen fans were convicted of involuntary manslaughter, while English clubs were banned from European football for five years, as Prime Minister Margaret Thatcher put pressure on the Football Association to initiate the withdrawal.
English champions Everton, FA Cup winners Manchester United and the other European qualifiers Tottenham, Southampton, Chelsea and League Cup winners Norwich City all missed out on continental football.
Juventus' old ground, the Stadio delle Alpi, used to not only pay tribute to the fallen on 29 May 1985 via their well choreographed banners, but their innovation was also a mouthpiece for their disgust.
When the sides met in the Champions League quarter-final in 2005 - 20 years on from the tragedy - Juventus fans were appalled at Liverpool offering an olive branch.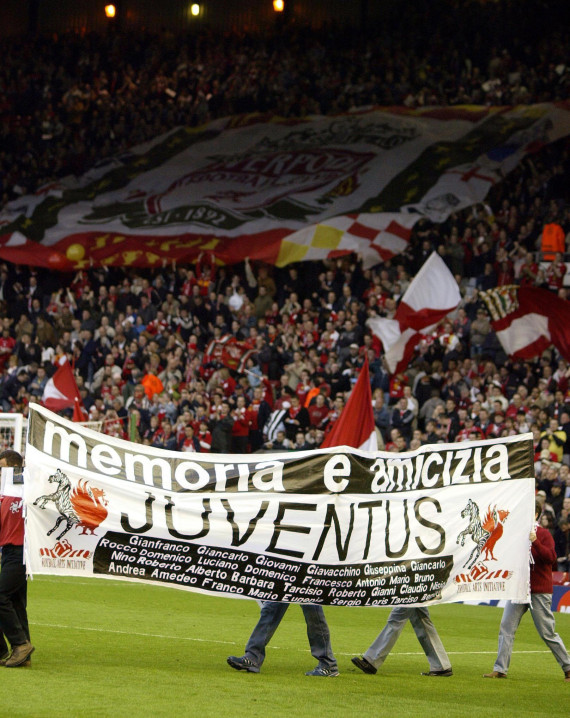 Come the minute's silence prior to the first leg match at Anfield, almost every Juve supporter turned their backs to the pitch and raised their middle fingers at the procession.
Back in Turin for the return leg, a series of banners vented dismay at the behaviour of Liverpool fans 20 years ago.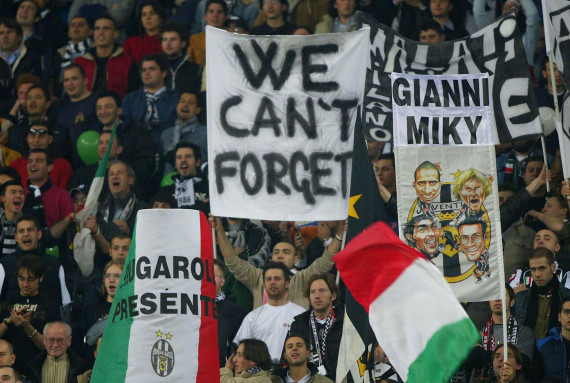 Chillingly, one banner seen at a Juventus match emanating from their supporters read "5.4.89. GOD EXISTS", in reference to the Hillsborough disaster in 1989, when 96 Liverpool fans died due to perceived police incompetence.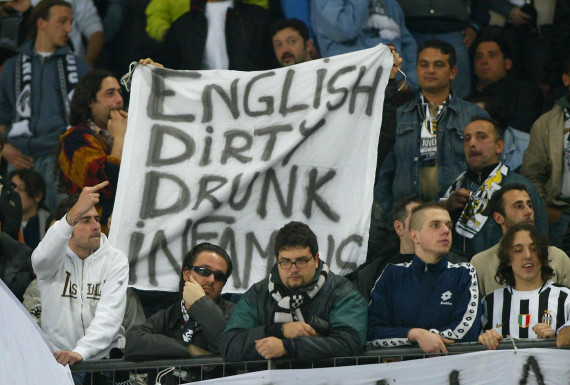 Another 2005 banner
Where families and friends of Liverpool supporters who perished at Hillsborough commendably continue to demand justice, Juventus are just as appalled at Liverpool's then chairman John Smith for attempting to shift blame on to Chelsea hooligans who had travelled to Belgium. Smith told reporters he believed the trouble to be the fault of "Chelsea fans" due to the amount of southern accents heard in the strands.
Although the Anfield club have been at pains to bring closure to the matter, it is one leaf some Juventus fans will not permit them to turn over.