A homeless man who had his face savagely chewed by a man described as a cannibal in broad daylight "will recover", despite almost 80% of his face being eaten off.
Ronald Poppo was attacked on Sunday in Miami by a man now identified as Rudy Eugene - a 31-year-old divorcee with a criminal background. Eugene was spotted naked, crouching over Poppo and chewing on the vagrant's face.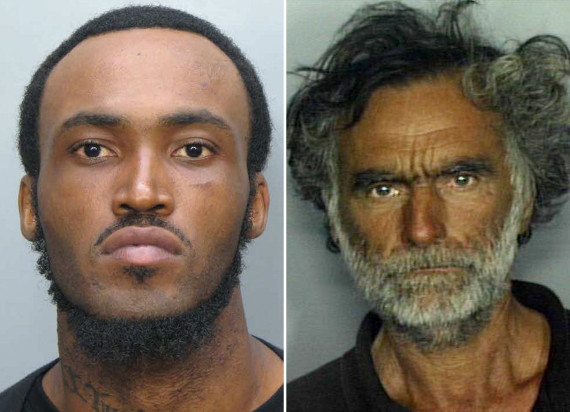 Ronald Poppo (right) and Rudy Eugene, left
Scroll to the end to see a pixellated image of Poppo's injuries (WARNING, GRAPHIC CONTENT)
The horrific attack left Poppo with his head almost completely devoid of skin and his nose and left eyeball missing. The 65-year-old is currently being treated the city's Jackson Memorial Hospital.
An anonymous hospital worker told Courthouse News Service the homeless man is in a "stable condition" in the Intensive Care Unit.
Speaking about the shocking events, eyewitness Larry Vega told WSVN-Fox 7: "The guy [Eugene] just stood, his head up like that, with pieces of flesh in his mouth. And he growled."
Vega alerted a police officer, who fired a shots at Eugene, eventually killing him.
The cannibal is thought to have been suffering from a drug-induced mania and Armando Aguilar of the Miami Fraternal Order of Police suggested the drug may have been a new form of LSD.
He told NBC 6: "Seventy-five to 80 percent of his face was missing, and he was actually swallowing pieces of the man's face."
News website Radar has reported Poppo will undergo facial reconstruction, with the costs - estimated to be as much as $200,000 - to be paid for by his local county.
Eugene's ex-wife has now come forward to say her former husband "always felt like people were against him".
Scroll down for video