The BBC threw everything they had at the Voice this week, knowing that poor ratings for the final would be a real egg-on-face moment that will be impossible to live down. (There's already talk of the judges being axed for the next series – MORE HERE).
Holly Willoughby's dress was cut lower than ever – I haven't seen a basque like that since Robot Wars - and Reggie Yates was banished to an almost invisible presence. He didn't actually appear until 35 minutes in – and then once again at 1 hour and 5 minutes in (yes, by now I was counting) – I'm expecting to see him even less, okay, not at all, in the next series.
MORE: WATCH - The Voice Crowns Its Winner... And It's A Proper Surprise
The Corporation have obviously tried to get everyone on board to save what is threatening to become an expensive white elephant. A big portion of Friday night's The One Show had even been handed over to what was essentially a promo for Saturday's talent-fest – unfortunately, that tactic went a bit wrong when One Show crew managed to run the wrong VT, and no one noticed for a few minutes, proving how few people inside the BBC corridors are still watching. Ouch!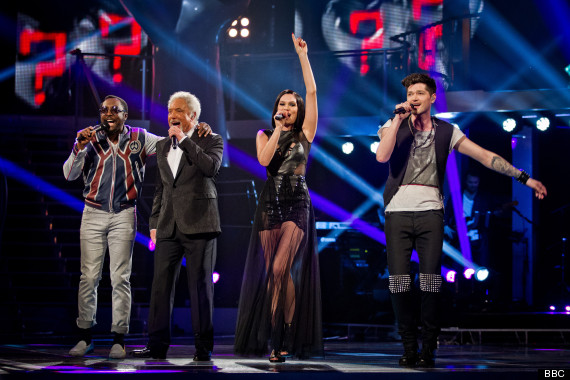 The four coaches sang for their supper during the final show - but have they done enough to get through to the next round?
Back at Elstree on Saturday night, and the coaches/judges/whatever were giving it everything they've got. We got at least three video segments where every man and his dog told us how they would never forget one single day of the competition, and how they'd all be friends - "forever!" in Tyler's case. The coaches then proceeded to show everyone how it's done, with a classy mash-up of each other's hits.
And the guest stars were cranked up even higher than last week's Kylie/Cheryl offering, with Brit Award winner Ed Sheeran and US hitmakers Maroon 5. Of course, the latter's frontman is the charismatic Adam Levine, coach on that massive American ratings winner… The Voice. If all else fails, Beeb can just cross fingers and hope a bit of that success rubs off by association.
There was a lot of goodwill evident in the atmosphere (specially for the unseen, but oft-mentioned Ruth Brown) and a genuine surprise at the end of the night, with Leanne Mitchell's triumph, overcoming huge favourites Bo Bruce and Tyler James with her big-boned belted-out tunes. Tom Jones looked incredibly chuffed with his protegee, and the show ended abruptly on that note, with the BBC producers obviously taking one lesson to heart, that perhaps they should have considered earlier in the run - quit while you, or someone, is winning...
Tonight's Voice finalists in action...