The Duchess of Cambridge took to the Thames on Sunday in a red Alexander McQueen dress and matching Sylvia Fletcher hat.
Kate, whose wedding gown was designed by Sarah Burton at Alexander McQueen, looked striking in the fitted bright red ensemble.
Her hat was by Sylvia Fletcher from James Lock & Co.
Fletcher designed the Duchess's distinctive red maple leaf hat worn on her tour of Canada last summer.
The Duke of Cambridge wore his Flight Lieutenant No 1 Dress Uniform complete with blue garter sash, while his brother Prince Harry, a Captain in the British Army, was wearing the No 1 Ceremonial dress of the Blues and Royals and Army Air Corps light blue beret.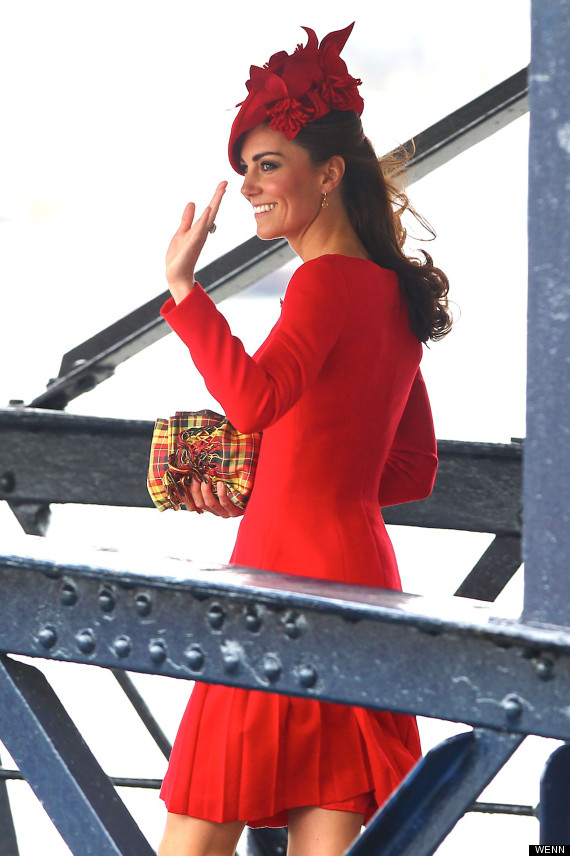 Kate's maritime-themed brooch featured two silver dolphins and was a gift from the Royal Navy Submarine Service, of which William is Commodore in Chief.
Her hair was safely held in place away from the wind in a half up, half down do.
The Duchess of Cornwall wore an Anna Valentine coat and dress and Philip Treacy hat.
The Duke of Edinburgh, who was made the Lord High Admiral of the Navy by the Queen for his 90th birthday, wore his Admiral of the Fleet ceremonial day dress.
The Prince of Wales was in Admiral ceremonial day dress, decorated with medals.
Read more: