The skies may have been grey and the drizzle relentless but the Dunkirk "little ships" had been through tougher things in their time.
The 39 vessels taking part in the Jubilee pageant 72 years after their Second World War mission were not to be deterred by a spot of bad weather.
In 1940 they were drafted in by the Royal Navy to help rescue hundreds of thousands of Allied troops from the shores of northern France.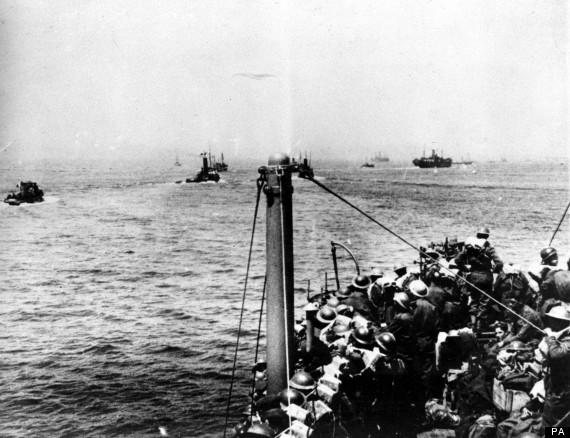 Some of the many ships carrying Allied forces across the English Channel from Dunkirk, France, between May 29 and June 3, 1940
On Sunday they had a slightly easier mission to complete: navigating carefully through the correct bridge arches as they sailed in formation down the River Thames.
The skipper of one of the boats, Papillon, remained upbeat despite the rain.
Ian Gilbert, 61, from Shepperton in Surrey, said: "Nothing gets us down. Regrettably, we're used to this kind of weather.
"It's what doing anything outdoors in the UK is all about. I just feel sorry for the people who have come to watch."
His wife Karina, 58, who co-owns the boat, also showed true Dunkirk spirit as she brewed coffee on board while awaiting the command to start.
"We're a resilient bunch," she said. "It's going to be a real privilege to take part and I'm really looking forward to it."
Led by MTB 102, the little ships will sail behind the royal squadron as they journey from Barn Elms to Tower Bridge and beyond.
The flagship is taking part despite an eventful trip from Lowestoft earlier in the week when it hit an underwater obstruction off Aldeburgh in Suffolk.
The 74-year-old motor torpedo boat was travelling at eight or nine knots when it ground to a halt and both engines cut off.
It is feared the collision may have broken an engine shaft or knocked a blade off the propeller.
MTB 102 and the rest of the Dunkirk little ships earned their place in the country's wartime heritage when Operation Dynamo swung into action.
Many of them private fishing and pleasure boats, they helped the Navy to rescue 338,000 troops from the French beaches between 27 May and 4 June 1940.
The evacuation came after the speed of the German advance through The Netherlands, Belgium, Luxembourg and France trapped nearly half a million Allied troops there.
Described as a "miracle of deliverance" by wartime Prime Minister Winston Churchill, the event is seen as one of several in 1940 that determined the eventual outcome of the war.
The boats will finish their journey today at West India Dock in east London.