Pompous, patriotic and likely to cost as much as the "annual budget of a small country."
Not our take on the Diamond Jubilee celebrations, but Russia's.
The four-day celebrations of the Queen's 60 years on the throne have been covered around the globe - and not all with the same reverence we Brits tend to give Her Majesty the Queen. Russia Today said this was pompous
Russia Today reported on the "pompous festivities" among the "job cuts, slashed wages, petrol hikes and rising education costs."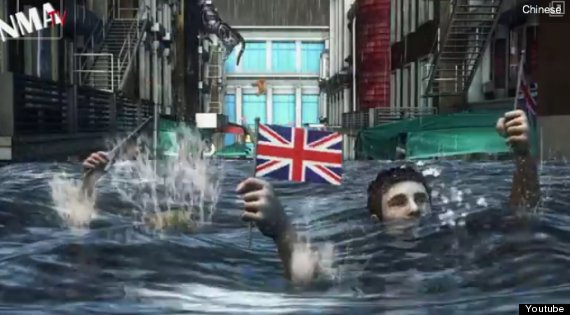 Not far off: How Taiwanese animators saw our jubilee celebrations
In Taiwan those pranksters at NMA TV satirised both the weather ("wet and windy") and Prince Charles ("the man who would be King").
They weren't the only ones taking a satirical view of the celebrations, with The Daily Show's Jon Stewart reporting on… well, the rain. He labelled the pomp and pageantry of the jubilee parade on Sunday a "magnificent spectacle that you could almost see through the inside of the car wash that is England in June."
Stewart also questioned if the 1,000 boat flotilla was the "British equivalent of a monster truck show?"
The US TV host also indulged in the very British pastime of repeatedly mocking Piers Morgan.
Morgan's network, CNN, took the time to provide us with some analysis of why we Brits love the Queen so much.
Its senior director of international news gathering Roger Clark writes:
"During this jubilee weekend, millions of people will sing the British national anthem, "God Save The Queen." And when they do, they'll really mean it."
Over in New Zealand, the weather also featured. 3news reported on rowers catching hypothermia, something conveniently not mentioned by the British press: "Dozens of rowers in the Queen's Diamond jubilee pageant, including a New Zealander, caught hypothermia during the seven hours they were on the River Thames."
The Hindustan Times, meanwhile, mentioned the great British export Robert Pattinson after he was reported to have said of the film indsutry "English things aren't very good."
"In a week when Britain runs high on Queen's Diamond Jubilee and people in the country celebrate everything about being British, Pattinson was doing the exact opposite," they wrote.
Back at home, think tank British Future reported on a street party given by refugees, who held a banner thanking Queen Elizabeth and the British people for their "hospitality."
Ugandan refugee Grace said: "We really want to say thank you to the Queen, thank you to the British people for giving us sanctuary… And that's why we're here, we're here to say thank you."
Take a look at pictures from Tuesday's Diamond Jubilee celebrations below:
Diamond Jubilee Celebrations