How far would you go to meet your hero? Specially if that hero was the engine room of the world's most popular, and arguably most dysfunctional, rock band?
Well, wherever it is, Tom Spicer can probably match you. He is obsessed, fixated, possessed – call it what you will – by an all-encompassing adoration of Lars Ulrich.
Metallica's capricious drummer has veered from taking on the world's adolescent musicos in a soul-destroying battle with Napster, to showing his more ticklish side in a film cameo in Get Him To The Greek. Anybody who has seen sat through Some Kind of Monster detailing his Herculean fall-out with lead vocalist with James Hetfield might think twice before trying to get too close.
But Tom is not just anybody. He lives in Devon, and has had Fragile X syndrome, the second most common cause of learning disability since childhood. One of the manifestations of said syndrome is an inability to contain ones fixations, and so it has proved with his loyalty to Lars.
"It was Arnie for a few years," remembers his brother Will. "But it's been Lars for the last 20 years or so."
So, three years ago, Will and his sister Kate set about turning their brother's dream of meeting Lars into reality. They approached Metallica's record company, their tour producers, their "people" generally, and discovered the labyrinth of maker-shakers that exist around any self-respecting rock gods today.
On the promise of a "meet and greet", they bought tickets for the last four tickets of Metallica's tour in the States and they got Tom over there. And they decided to film the whole thing, which has become Mission to Lars.
Except Tom wasn't playing ball.
"Tom doesn't like loud noises or strange places," explains Will. "It descended into a nightmare of trying to get him out of the van. Metallica had agreed to a 'meet and greet' at the second concert on the list, and then Tom didn't turn up. Which seemed to pique their interest. It was almost like the balance of power shifted."
At the same time as Tom was failing to fulfil his dream, two other things happened. The family encountered a specialist in Sacramento, who was able to help Tom from retreating further into himself, and his siblings decided to give him some kit, so he could be part of their creative process. With some support from the team behind the Oscar-winning documentary Man on Wire, it seemed a film was in the making.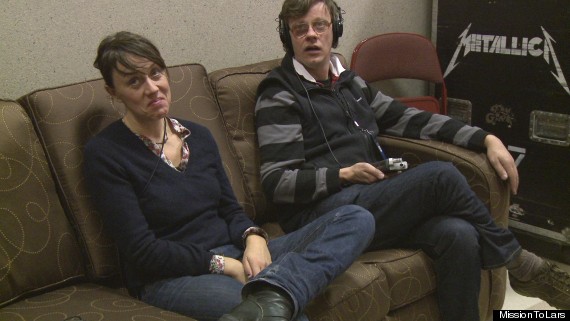 Devoted fan Tom with his sister Kate
Without spoiling the ending, Will can reveal that the biggest surprise of making Mission to Lars was how hard it was, and it continues to be. Each time they ran out of money during the two years it took to edit, the team had another auction, another party.
There's been tweet-chat about turning the film into a drama, with names like Chris O'Dowd dropping into discussions about who should play Tom, but the real-life documentary, released in the UK on Friday in selected cinemas, is still looking for a proper distributor.
Meanwhile, both Will and Kate have had to defend accusations of exploiting their brother to further their own ambitions (Will's a film-maker, Kate's a journalist). So why did they make it?
"Kate's motivation was simple – she made Tom a promise so she wanted to keep to it," explains Will.
"I have children of my own, and it was hard to explain my brother's condition to them. But as teenagers they consume film culture, so I wanted there to be a record for them to watch, to see that there's a lot more to my brother than just this syndrome."
As for Tom, he's thriving. "He has a totally different outlook on life since we made the film," reports Will. "He has a bus pass, he's travelling around the country, phoning us on his mobile phone – my mother gets very weepy at the difference it's made to him."
Does he still listen to Metallica? Can anybody else in the family?
"It wasn't my chosen sound," says Will. "But it's grown on me."
What about the object of adoration Lars Ulrich himself? "We expected the worst, but… he did the right thing. He's what my sister calls an evolved character."
Mission to Lars will be in selected UK cinemas fro Friday. Watch the trailer below…