Hopes that Spain will be given a cash injection to stabilise its wobbling banking sector helped world markets rally today.
Spain has denied reports it has asked for a bail-out but traders remain optimistic it will be allowed to tap the eurozone rescue fund as it struggles to pay for the 19 billion euro (£15.4 billion) rescue of Bankia, its fourth biggest lender.
Meanwhile, the European Central Bank kept interest rates on hold at 1% but some traders believe a cut is imminent after president Mario Draghi said officials are ready to add more stimulus if necessary.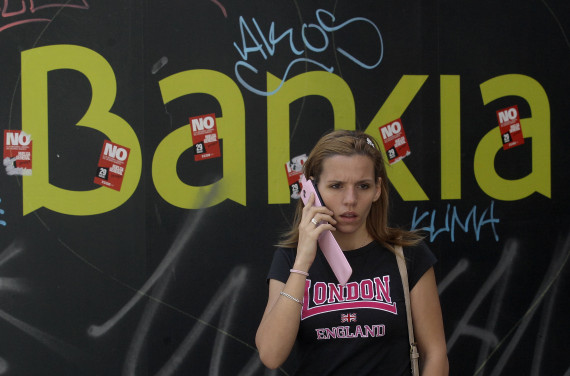 Spain is expected to need help recapitalising its banks
There is also speculation that the Bank of England will move to increase its quantitative easing programme tomorrow while the US Federal Reserve may also signal more money printing is on the cards after weak jobs figures last week.
The prospect of more stimulus measures boosted world markets despite growing fears the eurozone debt crisis is derailing the global recovery.
The FTSE 100 Index was up more than 2%, or 123.9 points at 5384.1, with banks and miners leading the way.
There were similar gains on markets in France and Germany, while the Dow Jones Industrial Average was up nearly 2% as the London market closed.
Governments have so far injected "unprecedented" levels of public money into banks - the European Commission approved 4.5 trillion euros of state aid - 37% of EU GDP - between October 2008 and October 2011.
A Commission statement said: "This averted massive banking failure and economic disruption, but has burdened taxpayers with deteriorating public finances and failed to settle the question of how to deal with large cross-border banks in trouble".
European Commission president Jose Manuel Barroso said: "Two weeks ahead of the (G20) summit in Los Cabos, the Commission is presenting a proposal which will help protect our taxpayers and economies from the impact of any future bank failure.
"Today's proposal is an essential step towards banking union in the EU and will make the banking sector more responsible. This will contribute to stability and confidence in the EU in the future, as we work to strengthen and further integrate our interdependent economies."
SEE ALSO