A new start-up company is aiming to revolutionise the diagnosis of autism in children through a unique touchscreen app.
More than 500,000 people in the UK have some form of autism, including Asperger syndrome and high-functioning autism. That's more than 1 in 100 people. But often the condition goes undetected, say autism charities - particularly in children - which can lead to problems at school.
Nearly one in five children with autism has been excluded from school, and more than 40% have been bullied.
But if detecting the condition is essential, why is it so difficult?
For Freen Eijffinger, CEO of Autitouch, it's because the tools to test for autism haven't kept pace with the modern world.
"We develop applications to identify and speed up diagnosis of Autism in children," she said in an email interview.
"My brother is Autistic and was diagnosed at 22, so I wanted to help develop better tools to enable parents and children to deal with Autism. Everything is done by hand and paper, but actually children respond better to electronic tablet tests."
Autitouch's app runs on Microsoft Surface, a large-screen touch-based computer similar to a very big tabletop iPad.
The software features a number of games and tests designed to detect signs of autism, but using what Autitouch says is a format which is more interactive and able to keep the attention of children with signs of the condition.
Diagnosis of autism can be a very labour intensive process, Autitouch explains - and can be prone to error. Applications designed to help have been tried before, but researchers have found using a mouse and keyboard doesn't take into account the limited motor skills of some autistic people.
"Autitouch removes the boundaries using a table that incorporates multi-touch technology and four serious games that the child or young adult can play," the company says.
Its app is now being looked at by medical professionals, and could launch in the Netherlands this year, with 23 pilot partners and three customers ready to jump on board. If successful, a UK launch could potentially follow.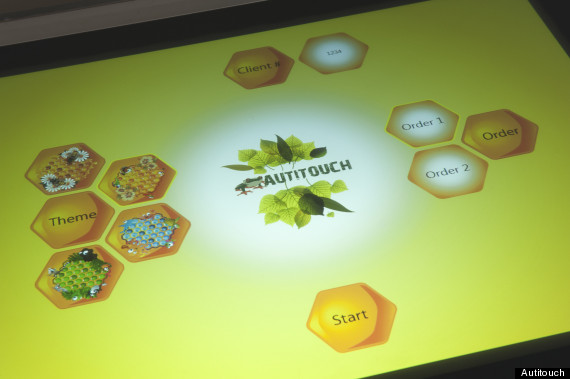 Above: the Autitouch app interface
Eijffinger says the app could change lives.
"Parents that may be concerned that their children may have autism will soon be able to use new methods to test if they have autism and better understand the symptoms," she said.
"Success for me is that children can be diagnosed quicker and more effectively ensuring they can live a normal life and enjoy simple things like swimming and education with non-autistic children and maintain friendships."
Autitouch's biggest challenge is actually finding a way to sell the product, but she says that inspiration is not difficult to come by - and adds working with the children involved is its own reward.
"Simply the children we work with, as everyday they come up with new interesting ways that we can improve our services and products to help them."
However, Autitouch may have big times ahead.
It was recently invited to showcase its product at the Microsoft Bizspark European Summit, and won plaudits for its unique approach to the issue.
Dan'l Lewin, corporate vice president for strategic and emerging business development at Microsoft, said that Autitouch was among several startups at the summit which had the potential to change lives.
"The startups that succeed partially as a result of the support of BizSpark will affect the lives of your readers," he said.
"What form that will take is as broad as the portfolio of exciting startups in our program. From a broad macro-economic level, Microsoft believes that Europe's economic success depends on the ability of high-potential startups to grow and thrive; what's good for startups, is good for us, is good for Europe."
He added that while working with start-ups is a business, inspiration is about something more
He said: "I have a belief that people fundamentally want to achieve good things and be the best they can. I think that technology can certainly help to amplify that, but fundamentally I'm a humanist, not an engineer, so my inspiration usually comes from people."
Despite the excitement, autism charities warned that an app alone could not replace the wide spectrum of care autistic children require.
Amanda Batten, director of external affairs at the National Autistic Society (NAS) said:
"It is essential that children with autism are diagnosed as quickly as possible to ensure that they have access to the right support early on.
"New guidelines from The National Institute for Health and Clinical Excellence (NICE) suggest that every diagnosis should involve a close and interactive assessment of a child's social and communication skills, and behaviours.
"Whilst continually improving the diagnosis process is important, an app alone could not replace the stringent assessment process for autism."
To learn more about BizSpark and the start-ups presented at the summit, visit their website.