Twitter's little blue bird is undergoing something of a transformation of late.
On Wednesday he officially debuted a slick new hairstyle…and shortly afterward, several internet users had transformed him into a superhero.
Tweeter @JoshHelfferich found that turning the feathered mascot (named after basketball legend Larry Bird) onto his side (and adding a black mask, natch), Larry bears an uncanny resemblance to Batman.
Helfferich's observation went viral and was even retweeted by actress Alyssa Milano.
While Helfferich's caped version of Larry swooped through the online world, he wasn't the first to observe the likeness, as Mashable points out.
Earlier on, a similarly brooding version of Larry was submitted by pentahelix on Reddit and on Wednesday Twitter user @CarlosRHZ posted his interpretation.
Larry's official moderations were announced on Wednesday and is a simplified version of the blue bird Twitter has used in the past.
Creative Director Doug Bowman debuted its new "universally recognizable symbol" in a blog post, explaining how the design came about: "Our new bird grows out of love for ornithology, design within creative constraints, and simple geometry.
"This bird is crafted purely from three sets of overlapping circles -- similar to how your networks, interests and ideas connect and intersect with peers and friends.
"Whether soaring high above the earth to take in a broad view, or flocking with other birds to achieve a common purpose, a bird in flight is the ultimate representation of freedom, hope and limitless possibility.
Twitter's old logo: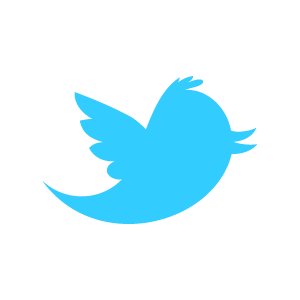 Twitter's new logo: