Kylie Minogue has admitted that her film career has sometimes been so disastrous that she has been forced to think, "it's not for me."
With roles in The Delinquents, Street Fighter and Moulin Rouge hardly disturbing the Academy judges, she could have a point.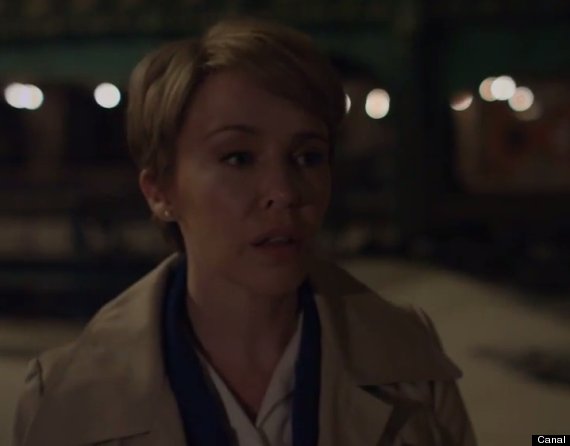 Kylie transformed in Holy Motors
But that could all be about to change, with her film Holy Motors becoming one of the hits of the Cannes Film Festival. Her film's French director Leos Carax has created a strange hinterland world, where characters change form from one scene to the next, and cars start singing to each other. Even its pop-singing star admitted to reporters: "I need to see it again in order to form an opinion of what it all means."
Kylie said in Cannes that she grabbed the chance to act again - "it's such a deep longing" - and revert to a time before her success forced her to create a 30-year performance, even without a script.
The enduring pop star told the Guardian: "I wanted to take away all the things that have become second nature to me whenever I see a camera. I've been doing what I do for a long time. Normally it involves being that person – that 'Kylie'."
She did, in fact, first come to fans' attentions in a very different guise from her ultra-feminine pop persona, when she made her breakthrough as tomboy mechanic Charlene Mitchell on Neighbours.
Now, nearly 30 years later - ouch! - she may have done it again, with a scene-stealing turn as a trench-coated femme fatale, in Holy Motors. And she even gets to belt out a song.
Even Kylie appears pleasantly surprised that she may have pulled it off, telling reporters at Cannes, "This has made me feel it's possible to be believable as someone else."
However, should all her acting dreams come to nothing, there's always the day job to fall back on, including a highly-anticipated reunion gig with Jason Donovan at Pete Waterman's reunion concert in Hyde Park (Hit Factory Live - 11 July).
Read Kylie Minogue's full interview with the Guardian here...
Holy Motors will be in UK cinemas in September. Watch Kylie in action in the trailer below...