Gale force winds which have battered parts of the country look set to ease this weekend, forecasters said, although the unsettled weather is expected to continue.
Severe weather warnings were issued for Wales, the South West, the Midlands, London, the South East and eastern parts of the country with winds of up to 65mph.
But Victoria Kettley, a forecaster with MeteoGroup, the weather division of the Press Association, said the area of low pressure over the UK which has brought the blustery conditions should begin to clear tomorrow.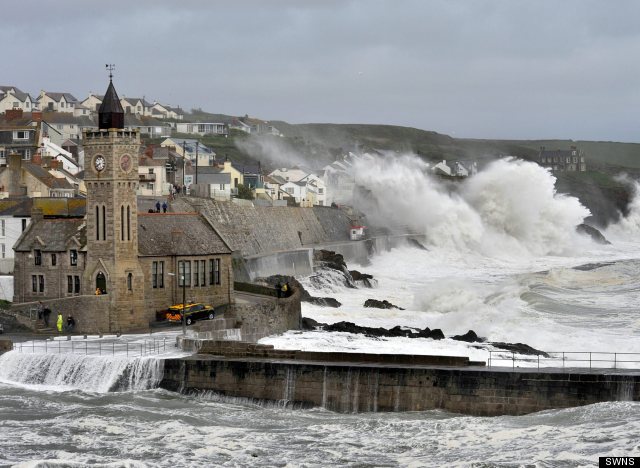 The Cornish town of Porthleven has been battered by waves brought by high winds
She said: "As this pressure moves into the North Sea, the winds should ease down.
"The gusts will feel strong this evening across the Midlands and East Anglia, with winds of 40-45mph in Lincolnshire and the Norfolk area.
"By tomorrow, the low pressure should start moving away, with gusts of 30-35mph across the country by midday on Saturday.
"As the low pressure clears, the showers we have seen should also clear away."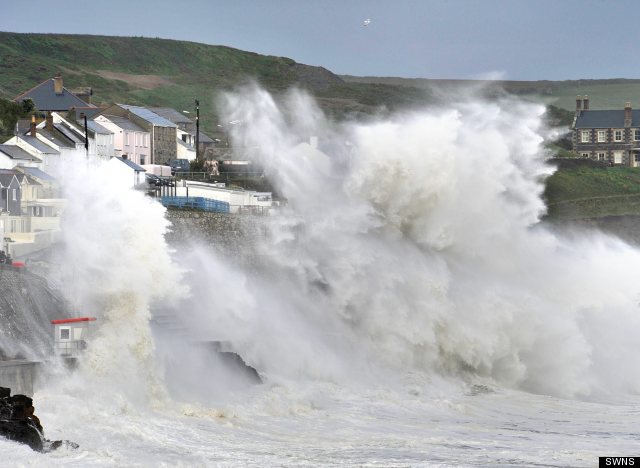 Waves in Cornwall have been brought on by particularly gusty gales
Ms Kettley said outbreaks of rain would continue tomorrow in Scotland and northern England but the rest of the country could see some sunny spells.
But she warned that another area of low pressure is expected to move across parts of the UK on Sunday, bringing wet weather to Wales and the Midlands.
In the heavy rain and high winds today, a teenage motorcyclist suffered serious head injuries in a single-vehicle crash in Brighton Road, Lancing, West Sussex.
The rider was taken to Hurstwood Park Neurological Centre for treatment following the accident at 4.25am, Sussex Police said.
Across the country, a number of trees were brought down, including one which crushed a car near Tavistock, Devon, yesterday afternoon.
Crews from Devon and Somerset Fire and Rescue Service used cutting gear to remove the roof of the vehicle and release a woman who was taken to hospital.
A section of the country's busiest shopping street, Oxford Street in London, was closed for more than two hours today after winds caused a steel cable to bring down jubilee bunting on to the road.
The windy conditions also led to delays to some ferry services at the Port of Dover in Kent. The Wightlink Lymington to Yarmouth service is running a delayed service after being temporarily suspended, while the Red Funnel red jet service from Southampton to East Cowes remained suspended tonight.
Meanwhile, the second day of the annual Suffolk Show, an agricultural fair, was cancelled due to concerns over high winds.
The show opened for about 15 minutes today before a decision was taken to stop the event due to "health and safety concerns".
The stormy conditions also led to Tinside Lido on Plymouth's waterfront becoming submerged with seawater after rough seas breached its walls and flooded it.