More horrendous weather is to lash the UK, with winds of up to 65mph battering coasts and torrential rain threatening flooding on Friday.
Severe weather warnings have been issued for Wales, south-west England, the Midlands, London and the South East and eastern parts of the country.
A deep area of low pressure from the Atlantic is moving slowly north east, touching north Wales before passing over the North Sea by evening - bringing heavy rain and wind with it.
Aisling Creevey, a forecaster with MeteoGroup, the weather division of the Press Association, said: "What we are seeing is tight pressure gradients across the UK, meaning it is really windy.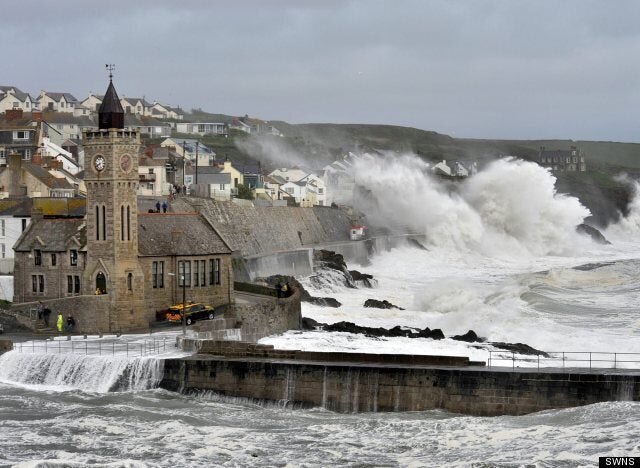 The Cornish town of Porthleven has been battered by waves brought by high winds
"Winds could reach up to 65mph across exposed coastal areas of Wales and south west and southern England.
"Across northern England, where the low pressure is moving over, winds are a bit more slack, and they are moderate across southern and central Scotland.
"But we could see winds of up to 50mph across northernmost Scotland, and about 40mph to 45mph across the Northern Isles."
The gusting winds will also bring large waves - possibly up to five-and-a-half metres in parts of the English Channel.
And a day of heavy rain is a real possibility for much of the country.
Ms Creevey said: "The heaviest rain will be across Wales, the Midlands and western and northern England.
"The south west could see anywhere between 15mm and 25mm of rain."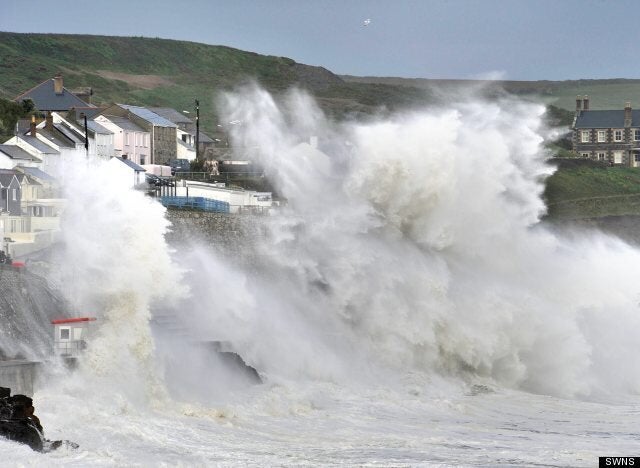 Waves in Cornwall have been brought on by particularly gusty gales
Met Office spokesman Charlie Powell said: "It is possible there could be up to three inches of rain in hilly and mountainous areas of Wales, with lower but still substantial rainfall in more low-lying areas."
The strong winds are expected to ease off throughout the day and fall significantly by 8pm or 9pm, though there may still be gusts of up to 55mph in some places.
Hampshire police said there were reports of trees down in the county but with no serious incidents or injuries.
One driver escaped with minor injuries after several branches hit his van on the A35 at Lyndhurst this morning.
The high winds also led to the cancellation of ferry services to the Isle of Wight.
The Wightlink Lymington to Yarmouth service is suspended and the Red Funnel red jet service from Southampton to East Cowes is suspended until further notice.