Around 150 people had to be rescued from homes and caravans today after severe floods hit west Wales.
Holidaymakers and residents were helped to safety in a large-scale rescue operation mounted by fire crews, coastguard lifeboats and military helicopters when water swept through caravan parks and villages near Aberystwyth.
An inshore lifeboat team taking part in the rescue operation had to be airlifted when they got into difficulties after helping to pluck a disabled man from a flooded caravan because a Royal Air Force (RAF) helicopter was 20 minutes flying time away.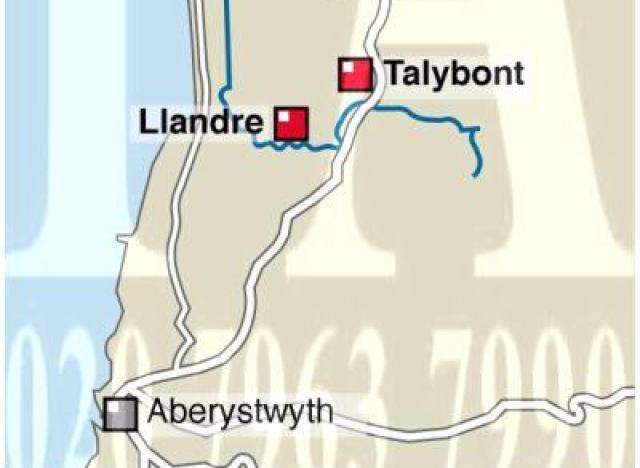 Llandre and Talybont are undergoing rescue operations
Four holiday camps along the River Lery were completely evacuated when the swollen waters breached its banks, and 150 people were sheltering in rest centres having been rescued, police said.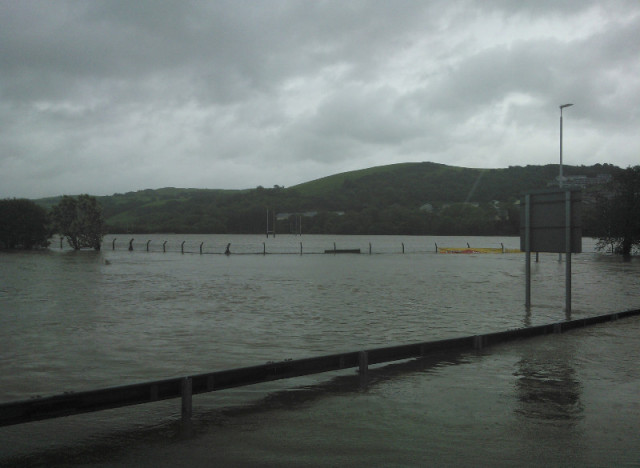 Flooding in the area has caused havoc in the area, with over 100 people having to be rescued
Dozens of people took refuge in a community centre in Talybont when flood water surged through the village and three people were winched away from the Riverside Caravan Park in Llandre by RAF Sea King helicopters.
Dyfed-Powys Police said three people needed treatment for minor injuries.
The alarm was raised in the early hours after more than five inches of rain fell in 24 hours. Environment Agency Wales has five flood warnings in place.
About 4-5ft of water was flowing through the main street in nearby the town of Talybont, where about 30 people were sheltering in the community hall and a local pub after being rescued.
RAF search and rescue crew member Sergeant Dickie Myers told Sky News: "We were airborne just after five o'clock, we were told there were floods in the area.
"We saw the river was fairly swollen, the water level was above car levels in some places, and up to the windows of static caravans."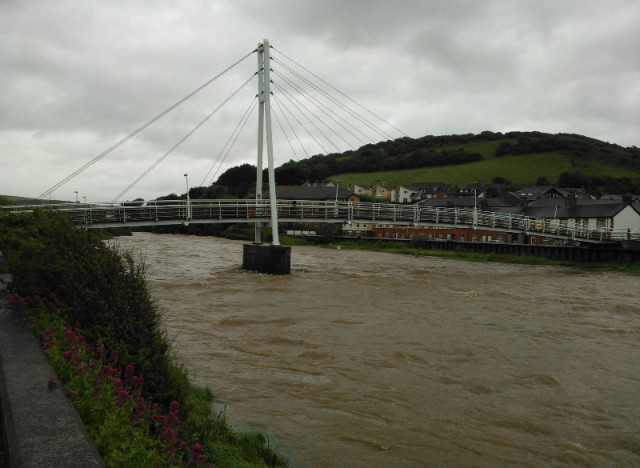 Water levels have risen dramatically, threatening further areas with flooding
The rescue teams helped 20 people from their caravans, and two of them needed help from ambulance crews because of mobility difficulties.
Resident Sam Ebenezer, in Talybont, told the BBC: "The amount of water is just amazing, it's flowing from higher ground, incredible scenes, it's devastating seeing close friends' housing being soaked all the way through.
"The fire crews have done an amazing job."
An RNLI flood rescue team has been asked to evacuate people from static caravans in Aberystwyth Holiday Village, which is very near the mouth of the River Lery.
The Aberystwyth lifeboat has also been launched into the harbour to act as "goalkeepers" in case anyone gets washed down the river.
The worst of the floods may well be over as high tide has passed, clean up operations have begun in affected areas.