Lindsay Sandiford, the British housewife who faces the death penalty for smuggling £1.6million of cocaine in her luggage, admits that she knew she was carrying "something dodgy" but that she didn't know what it was.
The 55-year-old tells the Mail on Sunday that she agreed to take the goods in an attempt to save her son's life who had received death threats.
"I got a call from someone – I don't know who – telling me my boy was a snitch and they would kill him if I didn't put things right," she said. "Did I think about the consequences if I got caught? No. I thought more about the consequences if I didn't do it."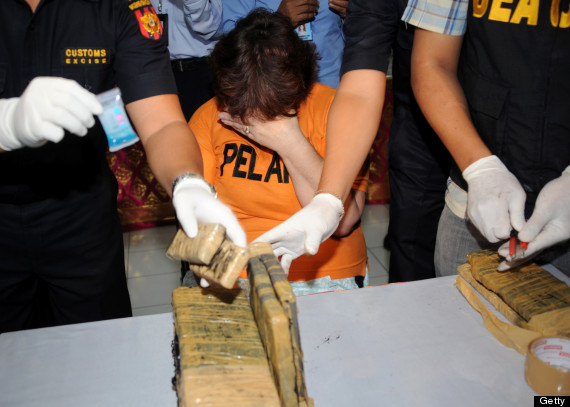 The 56-year-old was pictured sat at a table surrounded by packages wrapped up in brown tape as a customs official cut them open with a knife.
After her arrest on the Indonesian island Sandiford agreed to take part in a sting operation in which police swooped on three other British suspects.
Britons Julian Ponder, his wife Rachel Dougall and Paul Beales have been arrested in connection with the crime.
Sandiford maintains that she did not know what was in her luggage. She claims that once handed the suitcase by her contact in Bangkok she did not look to find out what she was smuggling as she was too afraid.
"When the customs men opened my suitcase that was the first time I saw what was in there," she adds. "Even then I didn't know what it was because it was all wrapped up. They told me it was cocaine."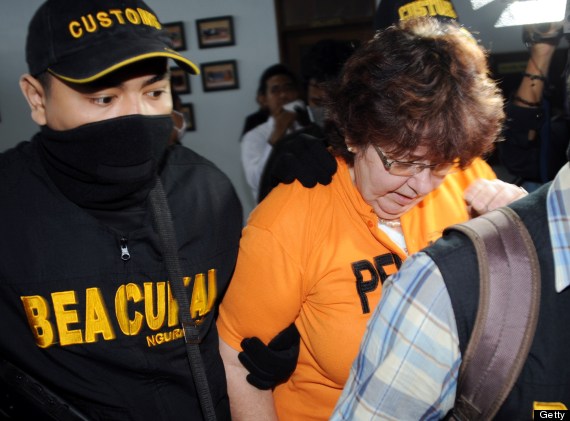 Wearing an orange inmate's T-shirt Lindsay Sandiford was also photographed flanked by armed officers wearing black masks.
Sandiford, listed on immigration documentation as a housewife, was stopped as she arrived at Bali's Ngurah Rai International Airport on a Thai Airways flight from Bangkok, Thailand on May 19, customs official Made Wijaya said.
A friend of Sandiford told ITV's Daybreak last month she remembered her as "someone that helped me", adding she was "very surprised" at her arrest abroad.
"Our children played rugby for Cheltenham and, because I wasn't driving at the time, she'd transport my children, so I helped her with jobs around the house," she said.
"I just can't believe that she's gone that low. I'm just gobsmacked."
Last week Rachel Dougall told how she could not eat or sleep. The mother has maintained her innocence since her arrest, insisting she was the victim of a "fit-up".