An entire village in North Wales is being evacuated over flooding concerns, after a weekend of flood alerts in the region.
Police said they were concerned about a crack in a reservoir in Pennal, Gwynedd and were evacuating around 600 people.
Supt Andy Jenks -Gilbert said: "The water is flowing over the top of the reservoir stone wall into a quarry below which has the Afon Pennal running through it.
"A crack has been discovered in the wall, causing a small amount of water to escape.
"Should the wall be completely breached, the contents of the reservoir will go into the river which flows through the village of Pennal, which is around half a mile from the reservoir.
"Police officers are evacuating residents in the area and would ask visitors and locals to avoid the village at this current time."
It came as hundreds of people evacuated following flash flooding in west Wales were returning to their homes and caravans on Sunday.
Villages in the county of Ceredigion were flooded by up to 5ft (1.5m) of water.
Some 150 residents and holidaymakers were rescued and evacuated from homes and caravan parks near Aberystwyth after twice as much rain fell in 24 hours as normally falls in the area in the whole of June.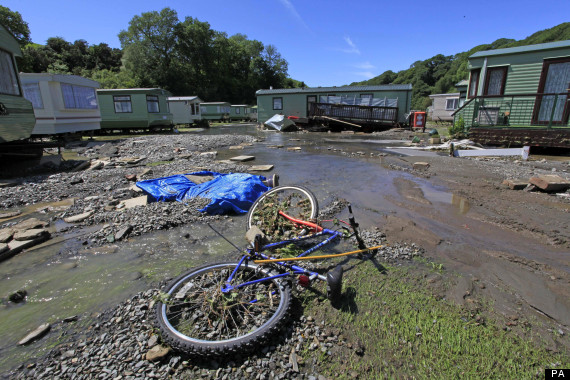 Many were forced to leave their homes as the rain poured down
Fire crews were again working around the clock, continuing to pump out water from a number of locations.
Although many roads have reopened, a flood warning remains in place and water has yet to recede fully in some places.
A number of caravans and tents in the Aberystwyth Holiday Park remained cut off from land - with some occupants surveying any possible damage from afar.
Tourist Simon Saunders, originally from the Midlands, was staying in a caravan with friends when told to evacuate the park yesterday.
He said: "It's amazing no-one was seriously hurt when you consider the damage done.
"The caravan parks are popular with families and retired people - so were the evacuation not done so quickly someone could have easily got hurt.
"My mate's camper van looks as if it's stranded and we won't be going home today.
"But everyone has pulled together and helped everyone out."
Emergency services sprang into action early yesterday morning after heavy rainfall caused flash flooding.
Welsh first minister Carwyn Jones said he was "deeply shocked" by the extent of the damage.
"Having spent a number of years living and studying in Aberystwyth, I was deeply shocked to see the extent of the damage caused by the flooding in an area I know so well.
"Yet again, we have witnessed the impressive bravery of our emergency services. Working in truly harrowing conditions, they ensured up to 1,000 people were moved to safety. It is thanks to the professionalism and dedication of both our professional and volunteer emergency crews that no lives have been lost."
One flood warning remained in place in Wales today, for the River Teifi at Lampeter and Llanybydder.
The Environment Agency said rainfall had now cleared the area, but a second flood peak from the Upper Teifi Catchment would slightly raise the level until later this afternoon.