Residents and holidaymakers were hoping to learn whether they can return to their flood-ravaged homes and caravans after spending Saturday night in refuge centres.
A large-scale rescue operation swung into action after heavy rainfall sent water several feet deep surging through communities in west Wales.
Some 150 people were rescued and evacuated to the centres as caravan parks and villages near Aberystwyth were inundated after twice as much rain fell in 24 hours than normally falls in the area in the whole of June.
Police said the overall number who left their homes, including those who did not need to go to the centres, was nearer 1,000.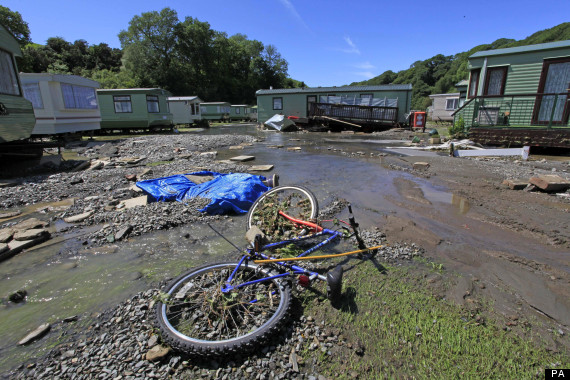 Many were forced to leave their homes as the rain poured down
Last night a spokeswoman said: "Numbers in rest centres have fallen as people try to make their own arrangements but some people are spending the night there."
Senior politicians, including Prime Minister David Cameron, paid tribute to Royal Air Force helicopter crews, fire service teams, coastguard and RNLI lifeboat crews and the emergency services who ensured there were no serious casualties.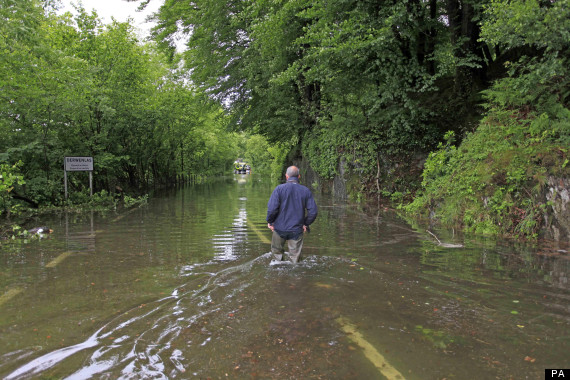 Police estimate 1,000 people were forced to evacuate their homes
A Downing Street spokesman said: "Mr Cameron offered his full support to all those affected by the extreme weather and passed on his thanks to the dedication of the RAF, lifeboat crews, emergency and other local services who have worked tirelessly to make people safe and keep disruption to a minimum."
Four holiday camps along the River Lery were evacuated when the swollen waters breached its banks.
The Secretary of State for Wales said: "This has been a very impressive operation in horrific weather conditions and with unprecedented flood levels.
The alarm was raised in the early hours after more than five inches of rain fell in 24 hours.
Residents described scenes of devastation and carnage, but the community pulled together to provide food and shelter, and help the more vulnerable.