James Corden fought off a host of Hollywood heavyweights to win a Tony award for his hit show One Man, Two Guvnors.
And while he's been flying the flag for British stage acting ever since he arrived in Broadway, last night he proved that we can do tear-jerking speeches too.
Welling up, his voice quivering like a plate of jelly, the 33-year-old took his 'Paltrow moment' with aplomb, dedicating his win to his girlfriend Julia whom he called 'Baby Mama'.
FULL LIST OF TONY AWARD WINNERS
The 66th Tony Awards were held at the Beacon Theatre in New York earlier today to celebrate excellence in Broadway theatre. James Corden struggled to hide his emotions after winning the Tony award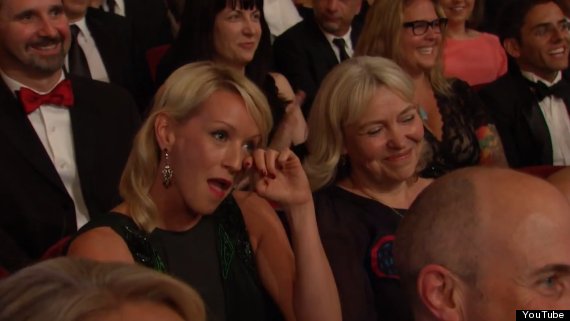 Baby mama: Corden's girlfriend Julia wipes a tear from her eye
It was a big event for stars from this side of the Atlantic, with a stage version of the low-budget Irish film hit Once winning nine out of 12 nominations.
But while Corden celebrated with another award to add to his mantelpiece, British stars such as Andrew Lloyd Webber and Sir Tim Rice missed out.
Corden won the award for best leading actor in a drama for One Man, Two Guvnors, which was nominated in seven categories.
He said it was a great honour to be mentioned in the same breath as actors such as James Earl Jones, Frank Langella, John Lithgow and Philip Seymour Hoffman.
James Corden At The 66th Annual Tony Awards
Corden said: "To be on a list with you was enough and holding this, it honestly just reminds me that there is no such thing as best.
"Honestly, I am overwhelmed."
Corden said he shared the award with the show's "brilliant" cast and crew, and thanked producer Bob Boyett, "who took a huge risk bringing this ridiculously silly play to your city".
He told the appreciative crowd: "Your city, the audiences here who have embraced our show like we never ever imagined they could, every night is a joy."
Corden began to well up when he thanked his girlfriend - who was in the audience - apologising to the guests and joking, "I'm so sorry, this is ridiculous. It's good that it's not hot in here, isn't it."
He told them: "My girlfriend Julia gave birth to our son five days before we started rehearsals. She is my baby mama and I can't wait to marry her. Corden proved he was "the governor" when he picked up the Tony award
"Seriously, I would not be holding this if it wasn't for her. She made me say 'us' instead of 'I' and 'we' instead of 'me', and I love her. Thank you very much."
British director John Tiffany picked up the award today for best direction of a musical for bittersweet production Once, his Broadway debut.
Playwright Enda Walsh also took home the award for best book of a musical for the same show, while fellow Irishman Bob Crowley was recognised for scenic design and Martin Lowe for best orchestration. Emotional Corden admitted he was "overwhelmed" after winning the award
Darlings of the musical world Andrew Lloyd Webber and Sir Tim Rice missed out on the Tony award for best revival of a musical.
Despite having two nominations - for Jesus Christ Superstar and Evita - they were beaten to the gong by The Gershwins' Porgy And Bess.
And former Coronation Street actress Tracie Bennett missed out on an award for her role as Judy Garland in End Of The Rainbow.
The actress, who played Sharon Gaskell in the soap and has enjoyed a highly successful stage career, was pipped at the post by Nina Arianda, who won for Venus In Fur.