There is no better place for a romantic break than gay Paris, so the fact Jennifer Aniston and Justin Theroux have jetted out to the city of luurrve will have everyone speculating they are about to tie the knot.
The pair touched down at Charles DeGaulle airport earlier today looking as cosy as ever, after earlier fuelling rumours of a wedding as they boarded the plane.
They were all smiles when photographers asked about wedding rumours as they walked through Los Angeles' LAX airport, but still declined to comment. The couple have roused suspicions for months after sporting gold rings on their wedding fingers bearing the other's name. Just give it up already!
Jen looked glowing as ever as she touched down after the long-haul flight, and sported some baggy jeans and plimsoles with a white vest top.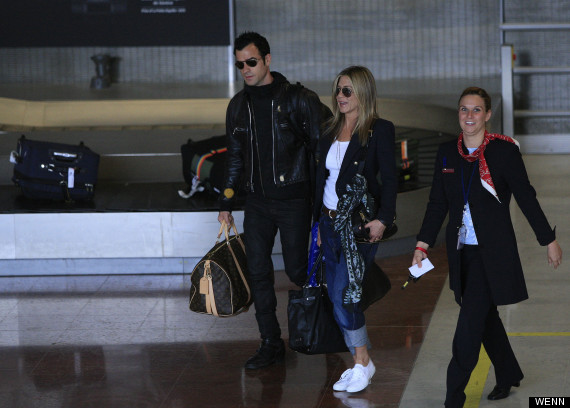 In a recent interview, 43-year-old Jen admitted to forgetting how old she is, saying: "I don't feel my age. I feel young every day. I feel sexy in my jeans and wearing my boyfriend's T-shirt."
We do hope a wedding will stop the world feeling sorry for 'poor Jen'. Despite being separated from ex-husband Brad Pitt for years and finding love in arms of others, Jen continues to be branded a lonely, ageing spinster. Anyone else find that old story a little, well, boring?
IN PICS: JEN'S STYLE EVOLUTION