A 19-year-old man remained in custody on Monday in connection with the murder of a teenage girl at a house party.
The man was arrested on Saturday after Megan-Leigh Peat, 15, was pronounced dead at a property in Ampthill, Bedfordshire.
Police said last night that he was "known to the victim".
Paramedics and police were called to the semi-detached house in Ailesbury Road shortly after 1.30am following reports that the schoolgirl from Westoning, Beds, had been fatally injured.
Police have refused to comment on neighbours' claims that the teenager was stabbed to death at the rented address and the results of a post-mortem examination are not yet known.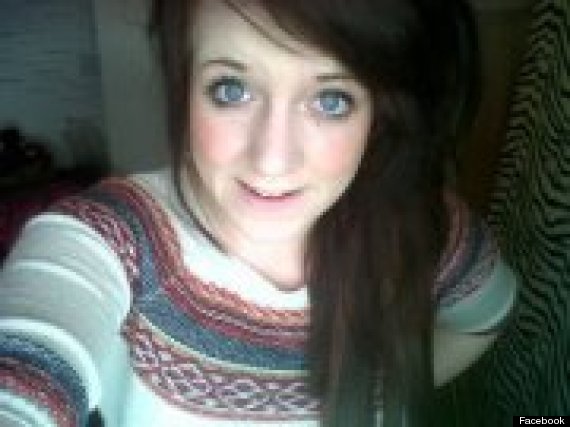 15-year-old Megan-Leigh Peat who was fatally stabbed on Saturday
Forensic examination of the scene continued yesterday and the house remained cordoned off. Spots of blood could be seen on a pathway leading up to the front door, and on the pavement close to nearby allotments.
Throughout the day devastated friends of the victim arrived at the house to lay flowers, photographs and notes at the cordon.
One friend wrote: "The emptiness and hurt you have left so many of us with is unimaginable.
"A beautiful girl on the inside and out, whose life was just beginning.
"So many memories growing up with you, Nath and Ricky, the good old days.
"Such a tragedy, so surreal right now.
"Heaven's angel. Rest forever peacefully, with all my love, Chelsea."
The tribute, written on an A4 piece of paper, was decorated with hand-drawn hearts.
Another note read: "Beautiful Megan, I remember the day you were born, the joy you brought your mum and dad to have a daughter and to give your two brothers a little sister. Then you grew into a happy smiley teenager. Heaven has gained an angel."
Chelsie McAneny, 16, said she shared learning support lessons with Megan-Leigh at Harlington Upper School.
She said: "Everyone loved her, she was bubbly and popular and she stuck up for everyone, even when she was down.
"She was a party girl, she loved it.
"You could hear her a mile away. Everyone would say she was a good friend.
"She has been through a lot, which is not for me to go into, but she was proper strong."
Another friend said she had spoken to Megan-Leigh just hours before her death. She said she had spent time in a pub with friends before moving on to the house party.
The schoolgirl, who asked not to be named, added: "Megan was the hero of the school, she was beautiful and she was always so supportive.
"The teachers loved her."
The friends said Megan-Leigh had a 19-year-old boyfriend she had been with "on and off" for two years.
The house where the incident happened is a small modern property on a large and peaceful housing estate, a short distance from the centre of Ampthill.
Neighbours said the community in the small town had been shocked by the killing, with one describing the scene as "like a movie set".
The man, who asked not to be named, said he returned to his home near the murder scene at around 2.30am on Saturday.
He said: "When I left it was all quiet but by the time I got back there were police vans and cars and paramedics outside the house. There must have been six police cars.
"I woke my girlfriend to show her and she was in shock. It was like a movie set.
"One of the neighbours came over to fill me in on what had happened. It's shocking because nothing ever happens in Ampthill, it's the sort of place where you don't even get a dirty look in the pub."
The resident said he had heard loud music coming from the house on a number of occasions but had not noticed a party at the property on Friday evening.
Another neighbour, who also asked not to be identified, said a woman in her 40s and her teenage son moved into the rented house around 12 weeks ago.
She said the boy celebrated his 18th birthday about a month ago, adding: "They seem like a nice family. I don't see much of them but when they moved in they did the front garden up so they are obviously houseproud.
"The boy has friends round in boy racer cars and you hear the odd blast of loud music but that is all, they have been no trouble."
In a short statement Bedfordshire Police said formal identification had not yet taken place but confirmed the victim was believed to be Megan-Leigh. A spokeswoman said the teenager's family had asked for privacy as they come to terms with the tragedy.
Anyone with any information is urged to contact the police on 101, or Crimestoppers on 0800 555 111.