People left devastated by flash flooding in mid Wales are to be helped via a special disaster fund.
More than 1,500 people were evacuated and 150 rescued over the weekend after water up to five feet gushed through homes and businesses in Ceredigion, Powys and Gwynedd.
The clean up and insurance costs of the "freak deluge", in which a month of rainfall fell in just 24 hours, is expected to run into millions of pounds.
On Monday people faced a second day of surveying the damage - with Talybont, near Aberystwyth, among the worst hit areas.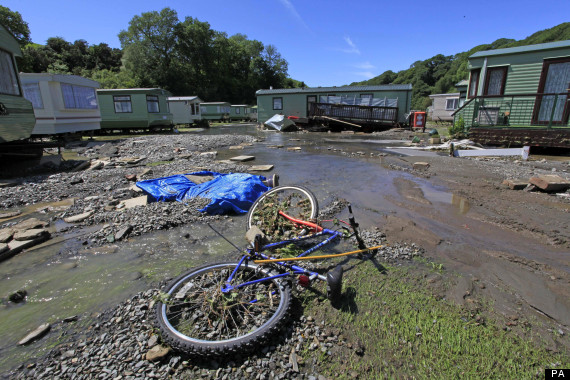 Many were forced to leave their homes as the rain poured down
Ceredigion County Council leader Ellen ap Gwynn said many people who had "lost everything" were not insured, or were unable to get insurance for their riverside homes.
She said: "The last 48 hours have been horrendous. I think now the full scale of the damage and loss is beginning to sink in.
"That is why Ceredigion County Council is setting up a disaster fund to help those who won't receive a penny. The details are yet to be finalised, but I would urge the public to donate everything they can to help those who have lost everything."
Just 24 hours earlier, a month's worth of rain fell at Trawsgoed, near Aberystwyth. Caravan parks and villages near Aberystwyth were inundated by floodwater - leading to a multi-agency rescue team being assembled.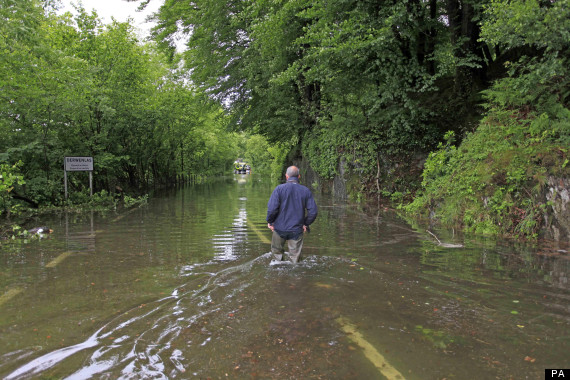 An estimated 1,500 people were forced to evacuate their homes
At its peak, more than 100 personnel from the RAF, police, fire service and RNLI were involved in the rescue efforts.
Yesterday, tourists who had been staying in static caravans returned to their holiday homes to survey the damage.
Claire Brabbin, 41, who owns a caravan in The Riverside Holiday Park near Llandre, described watching Saturday's flood on TV while at their home in Burton-On-Trent as horrific.
She said: "We couldn't believe what were seeing. It didn't look recognisable. When we came back to examine the damage, the park looked like a war-zone."
Other holiday home owners said they may be unable to return in the future.
First Minister Carwyn Jones said there was very little that could be done about extreme weather conditions, but said his government was spending £40 million on flood defences and coastal erosion over the next year.
He said: "The reality is you cannot prevent flooding at all times - especially when you get very, very unusual weather patterns such as we've seen over the few days in this particular part of Wales.
"Of course, the situation will have been examined. We'll talk to the Environment Agency to see what could be done to help boost the flood defences in the area in the future."
Local Government minister Carl Sargeant added the situation would have been "much worse", had recent flood defence work not been carried out in the area.
The Environment Agency Wales advised people in Ceredigion and Gwynedd that a band of further heavy rainfall is forecast for the area.
A spokeswoman said: "At this moment in time, forecasts indicate that although rivers may rise, the rain is not likely to cause any further flooding to the area. However, the rainfall may disrupt the clean-up operation which is currently underway following serious flooding in the area over the weekend."