Stock markets surged today after a lifeline worth up to 100 billion euro (£81 billion) for Spain's banks helped ease eurozone tensions.
The FTSE 100 Index jumped nearly 2% or 100 points, reflecting similar gains in Asia, after the European Union bailout secured vital breathing space for the beleaguered single currency.
The euro climbed 1% against the US dollar while Brent crude oil also lifted back above 100 US dollars a barrel amid hopes of improved global demand.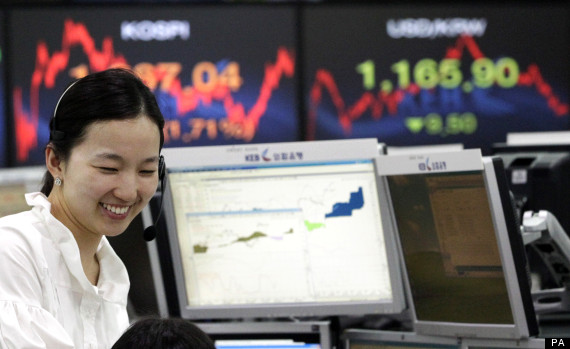 Stock markets around the world have rallied on the back of the Spanish bailout
Financial stocks were among the major beneficiaries in London, with Barclays shares up 5% and insurer Aviva 4% higher. International Airlines Group, which owns British Airways and Spain's Iberia, also jumped 4%.
Although the situation in the eurozone's fourth biggest economy remains bleak, there are hopes that the eventual injection of support for its creaking banks will help to avoid the meltdown of the eurozone.
Chancellor George Osborne this weekend warned that the UK faces a lost decade unless the eurozone crisis is brought under control.
While the planned 100 billion euro in European Union rescue funds has eased some nerves over Spain, further storms lie ahead for the eurozone.
The next key date for the euro currency union is Sunday when Greece holds an election that is being seen as a referendum on whether to stay in the eurozone or reject painful austerity measures.
Richard Hunter, head of equities at Hargreaves Lansdown stockbrokers, said: "The Spanish announcement is not a solution to the eurozone's ongoing woes, but it is a statement of intent.
"Despite the fact that details have to date been sketchy on the ultimate resolution of the European crisis, one constant has been a declaration by the authorities that the area will remain intact.
"Some much-needed time has now been bought in Spain, which will allow the market an at least temporary sigh of relief."
A final figure on the size of the bailout will only be available later this month following the completion of two audits of the financial system.
The cash is expected to come from the eurozone rescue fund, with the International Monetary Fund overseeing the payments but not putting up any money.
The terms of the deal Spain is set to receive are likely to reassure markets because they have none of the strings attached to previous bailouts of Greece, Portugal or Ireland, when tough austerity measures were demanded.
Spain's financial problems are not due to Greek-style government overspending. Instead, its banks got caught up in the collapse of a real estate bubble in 2008 that then got worse over the next four years.
There are fears the problem will get worse as more jobless people are not able to pay their mortgages.