Harry Redknapp has left his post as Tottenham Hotspur manager after almost four years in charge of the club.
Chairman Daniel Levy summoned the former Portsmouth boss on Wednesday for talks at White Hart Lane over what was believed to be Redknapp's compensation package.
Everton manager David Moyes, who Spurs earmarked as Redknapp's successor months ago, is favourite to succeed Redknapp, with bookmakers confirming they have already stopped taking bets on him departing Goodison Park.
Levy commented on the Tottenham website: "This is not a decision the Board and I have taken lightly. Harry arrived at the Club at a time when his experience and approach was exactly what was needed. This decision in no way detracts from the excellent work Harry has done during his time with the Club and I should like to thank him for his achievements and contribution. Harry will always be welcome at the Lane."
Redknapp added: "I have thoroughly enjoyed my time at Spurs and am proud of my achievements. I have had a fantastic four years with the Club, at times the football has been breathtaking. I am sad to be leaving but wish to thank the players, staff and fans for their terrific support during my time there."
Brendan Rodgers was also identified as a potential replacement before he left Swansea City for Liverpool, while Spurs also contacted Jose Mourinho to enquire as to whether he would be open to the offer of managing the club.
On Tuesday night Redknapp dispelled rumours he had resigned from Spurs when he told ESPN: "No, I haven't resigned, and I have no idea why it is being suggested that I have resigned.
"This is an outrage; an absolute liberty for people to be putting around this kind of rumour on the internet. It is not true, there is not a chance I will resign. Why should I? I have a year left on my contract."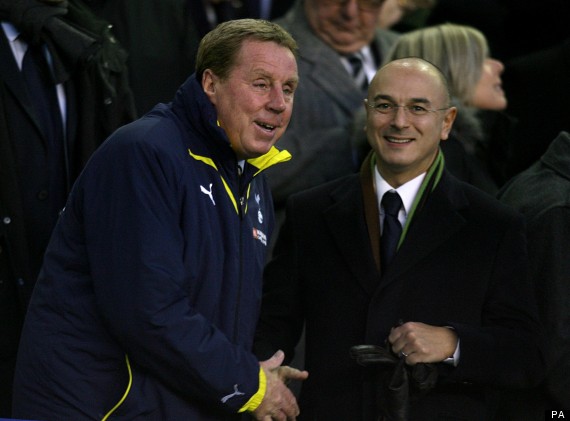 Redknapp and Levy in happier times
But since the 65-year-old's contract expires in June 2013, and with Spurs showing little alacrity in extending his deal, Redknapp's exit from the Lane comes as little surprise.
And in his role as a pundit for the BBC on Euro 2012, Redknapp has made a number of thinly veiled remarks hinting at his disenchantment at not being made a new offer.
And in an interview last week, Redknapp stated: "You don't let players run into the last year of their contract if you think they're any good and you don't let managers run into the last year of their contract if you think they're any good."
Levy was understood to be disappointed at Redknapp's eagerness to take on the England job and consequently started scouring for Tottenham's seventh full-time manager since the turn of the century.
Acquitted of tax fraud charges on 8 February, later that day Fabio Capello resigned from the England national team post, making Redknapp the hot favourite for the role.
And although Spurs comprehensively thrashed Newcastle United 5-0 three days later, they went on a poor spell of form, losing three Premier League matches in succession and not winning a league game in nearly two months, as they nosedived from third to fifth.
Tottenham players, who capitulated as doubt enshrouded their manager's future, were informed he would be leaving before Tottenham issued the aforementioned statement.
Spurs were also humiliated in the FA Cup semi-final when Chelsea beat them 5-1 at Wembley, scuppering hopes of their first piece of silverware under Redknapp. Tottenham eventually finished fourth - a Champions League qualifying berth - but will not participate in the competition after Chelsea won the trophy, taking up the fourth English spot.
Redknapp's annus horribilis continued when he was overlooked for the England job in favour of Roy Hodgson, as it emerged he was the first choice of just one of the Football Association's four-man panel - general secretary Alex Horne.
He joined Tottenham from Portsmouth in October 2008, after Levy sacked Juande Ramos following a winless start to the Premier League campaign.