As the first pictures of the victim of Miami's "naked cannibal" were released, a former drug addict has described the horror of overdosing on the drug attacker Rudy Eugene is speculated to have been on during his bloody rampage.
Freddy Sharp told CNN's Don Lemon his overdose of the substance known as "bath salts", which has chemical effects similar to stimulants like cocaine and methamphetamine, was the "evilest thing."
The 27-year-old became addicted to the powder when he was just 13 or 14-years-old and appeared on the news channel alongside a video of himself under the influence of it, shot by the Bristol, Tennessee Police Department.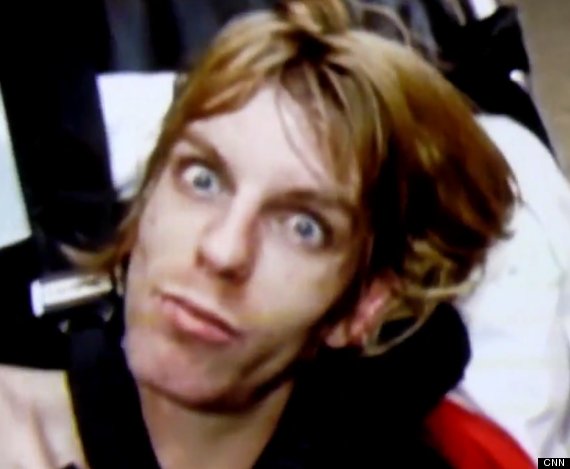 Footage of Freddy Sharp overdosing on bath salts was aired on CNN
Writhing, pulling faces and singing to himself, Sharp is seen variously restrained and lying face down on the ground, panting and grunting.
He said: "It really scared me bad, I was hallucinating about being in a mental institution and something about Jason Voorhees (a fictional villain from the Friday The 13th series) and being possessed by him.
"I felt all kinds of crazy."
When asked what was going through his mind during the episode, the Tennessee native recalled: "Fear, darkness and it felt like impending doom was coming down on me and I was possessed.
Scroll to the end to see recent images of Poppo, as well as a pixellated shot of his injuries immediately after the attack (WARNING, GRAPHIC CONTENT)
SEE ALSO:
"I kept trying to stop whatever was in me from continuing further and it felt like I was about to bust loose and actually hurt somebody.
"I had never felt fear like that and it was one of the most horrible experiences of my life, I don't know why I did it, it happened it's behind me now and I'm trying to move on."
Although a toxicology report on Eugene is still pending, it is widely believed he was using the drug when he partially chewed off the face of homeless man Ronald Poppo.
Armando Aguilar, president of the Miami Fraternal Order of Police, revealed his theory, adding users "go completely insane and become very violent."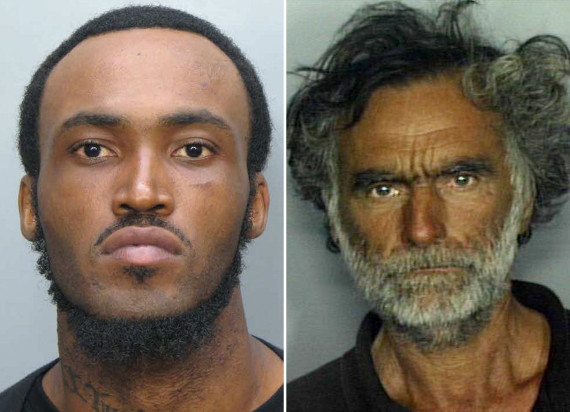 Ronald Poppo (right) and Rudy Eugene, left
The drug, which is banned in many states, can cause severe agitation, rapid heart rate, high blood pressure, paranoia and symptoms of psychosis, including hallucinations and delusions.
It can also lead to overheating of the body, which is why so many users remove their clothing.
Eugene was shot dead by police following the attack, which took place in broad daylight on Miami's MacArthur Causeway on May 26.
The aftermath of the gruesome assault was captured on film by a Miami Herald surveillance camera.
Poppo, who is being treated at Jackson Memorial Hospital, allowed two pictures of himself to be released on Tuesday.
The pictures reveal one of his eyes was lost to the attack while the other is covered by gauze. Poppo's nose is missing and his forehead is a mass of scabs.
Doctors told the press approximately 50 per cent of his face is missing, that the patient remembers the attack, understands he is in hospital and is aware of the media coverage.
HOW YOU CAN HELP: The Jackson Memorial Foundation has set up a fund to assist Ronald Poppo in his recovery, which experts in facial reconstruction have said will include lengthy treatment, staged reconstruction, and psychological care. Donations can be made by check or online at jmf.org.
'Naked Cannibal Attack' In Pictures (WARNING, GRAPHIC IMAGES)