A British activist in Hong Kong has attempted to perform a citizen's arrest on Tony Blair, claiming it was his "moral obligation" to hold the former PM for war crimes.
Tom Grundy, a 29-year-old Briton living in the country, attempted the arrest at 5:40pm local time, around 11am in Britain, as the former prime minister gave a speech about faith and globalisation at Hong Kong university.
The activist told The Huffington Post UK he had planned the action two days before the speech, and sat waiting for the former Labour leader for an hour before the attempted arrest.
Grundy said he wanted to "renew awareness" about Blair, who he claims had violated international law in his support for the Iraq War.
"In 2009 Blair admitted he would have gone to war regardless of WMDs and international law forbids wars for reasons of regime change. So that's why I tried to perform a citizen's arrest," he said.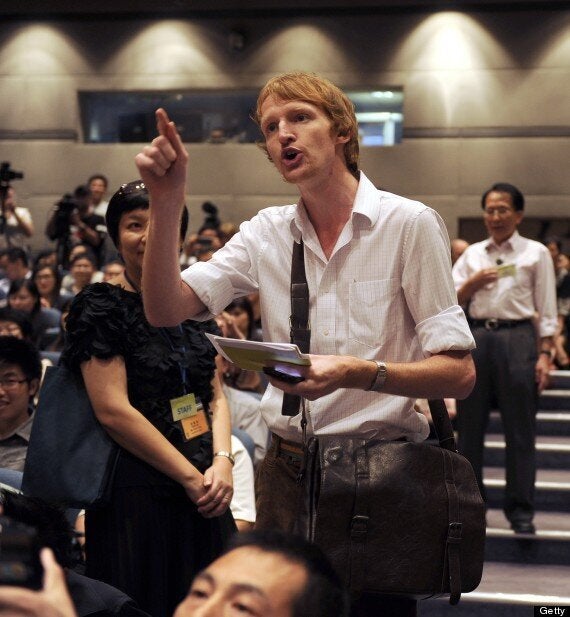 Tom Grundy, the Briton who attempted to arrest Tony Blair in Hong Kong, said the act was symbolic
"I want him to fear that wherever he goes and I hope it may stick one day."
Grundy denied he was harassing Tony Blair saying: "I took one-to-two minutes of Mr Blair's time to make this point. I wouldn't call that harassment in any way. There's nothing legally ambiguous with regard to standing up and speaking loudly. He's a public figure and he's an ex-leader and he's still making public appearances like this… He's not immune simply because he's no longer in power."
He said during the incident he said he got "as close to him as I could."
"I was a metre or two directly in front of him but there was a gaggle of photographers and his men in front of me preventing me to go any further. I put it to him that he'd caused the death of at least 100,000 people during the Iraq War,
"I closed by telling him he can't talk about religion when he has set back religious tolerance by decades."
Grundy, who said he informed news agency Reuters about his plans before the arrest, claimed Blair's speech about faith was hypocritical, saying: "He has enraged the entire Muslim world, [and] endangered British citizens. When there was a terrorist attack on 7/7 those involved admitted that it was related to British foreign policy."
After the incident, which lasted for one or two minutes, Grundy said he looked directly at Blair before leaving of his own accord.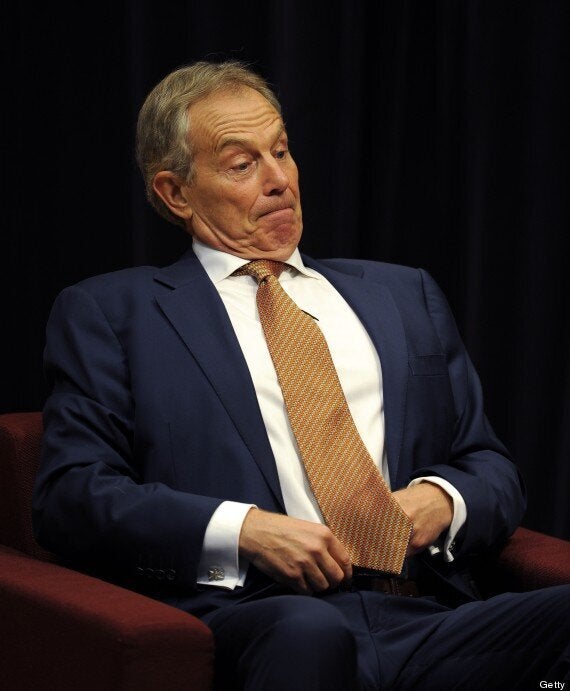 Blair during his appearance at Hong Kong university
"For the latter part I was looking at him. He was looking at me as well. He didn't look sad, I think he's used to it.
"I always knew I was never realistically going to be able to arrest him here in Hong Kong there and then. I told Reuters in advance and that's what they were interested in. The fact that it's gone on the newswires is what I intended to do. It's to renew awareness.. It's kind of symbolic at this stage."
He added: "I learnt that he was coming here so I felt some kind of moral obligation [to try]. As a British person I was also misled over this issue of the Iraq war."
Blair told Grundy: "I think you've made your point. Now let me get on with making mine… You've made your point, that's democracy for you."
Grundy's attempt comes just over a week after protester David Lawley-Wakelin interrupted Blair's appearance at the Leveson inquiry to accuse him of "war crimes."
Related