The Men Who Made Us Fat - BBC2, 9pm
Obesity levels are rising and investigative reporter Jacques Peretti is on a mission to find out why.
In America, he discovers how high-fructose corn syrup sweetener, championed in the 1970s by Richard Nixon's Agriculture Secretary Earl Butz, found its way into almost all processed food and soft drinks as a cheaper alternative to sugar.
He then turns his focus on Britain where, at the same time, food manufacturers used advertising campaigns to promote the idea of snacking between meals, and the nation saw the arrival of the first fast-food chains from the US.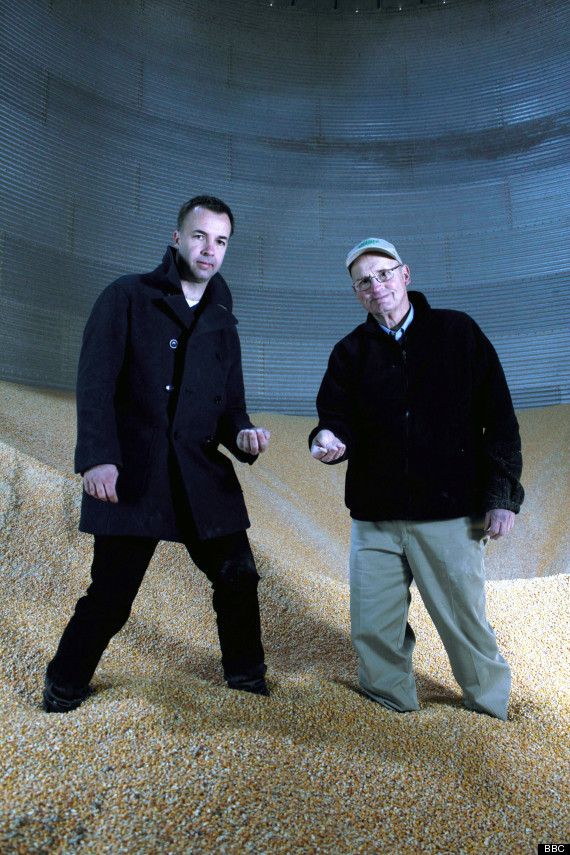 Jacques Peretti with a corn farmer in Lafayette, Indiana.
The causes of obesity might seem obvious, but the people behind the accused products are still playing dumb.
Peretti meets a spokesperson for the American Beverage Association - as soft drinks are the largest single source of calories in the US diet - and they insist that the drinks make no contribution to obesity.
This programme, coincidentally, is airing on the same day that Burger King have announced a nationwide US release of their 'bacon sundae' as part of their summer menu. Sounds healthy, doesn't it?
The Bridges That Built London With Dan Cruickshank - BBC4,9pm
Historian Dan Cruickshank explores the Thames crossings of our capital city, discovering there is much more to them than simply means of getting from one place to another.
The marshes of the estuary are examined before he moves upstream to Vauxhall, where archaeologists have recorded London's oldest bridge.
Plus the legend of London Bridge is retold, before reaching journey's end at the Millennium Bridge near St Paul's Cathedral.