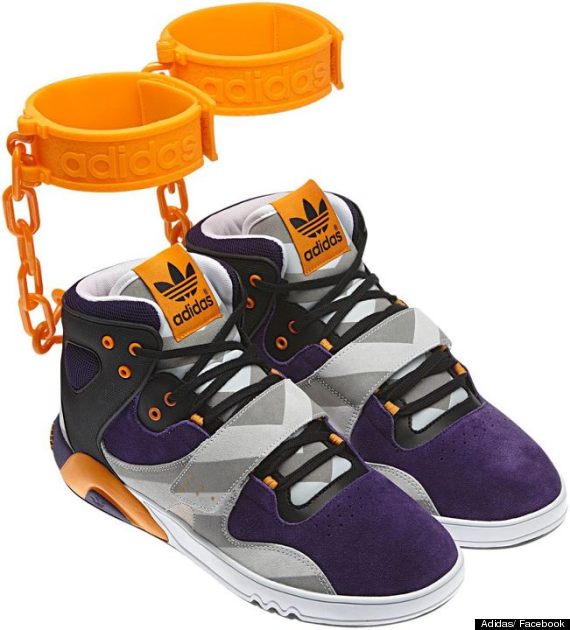 The new Adidas JS Roundhouse Mids feature orange shackles
UPDATE: Adidas has now withdrawn plans to release the JS Roundhouse Mids
Adidas is primed to release a pair of trainers with bright orange "shackles" that fit around the wearer's ankles.
The JS Roundhouse Mids, which are set to hit shelves in August, were debuted on the Adidas Originals Facebook page on June 14.
Several message boards and blogs have already likened the orange "bracelets" to the shackles worn by black slaves in 19th Century America and today's prison restraints.
A sales strap for the shoes reads: "Got a sneaker game so hot you lock your kicks to your ankles?"
Over 2,000 Facebook comments have been left so far, with many calling the design "offensive", "ignorant", claiming the company has "sunk to new lows" and branding the shoes "slavewear".
Facebook user Kay Tee said: "It's offensive and inappropriate in many ways. Not to mention ugly.
Scroll down for a gallery of the 100 most shocking adverts of all time
SEE ALSO:
"Regardless if the company was saying the shoes are so hot you have to chain them to you, or they were capitalising on the whole prison style popularity, corporate business has a social responsibility above all to consider these perceptions before releasing a product like this.
"How would a Jewish person feel if Nike decided to have a shoe with a swastika on it and tried to claim it was OK in the name of fashion?"
However, Yali Weiss points out: "Not everything with a chain is related to slavery", although another commenter ominously warns: "Those who don't know their history are doomed to repeat it".
Bloggers have reacted to the shoes, with Indie Wire's Tambay asking if they were: "Maybe inspired by 'slave-movie-fever' perhaps?
"Or is this just entirely unintentional on Adidas' part, although ignorant of what the design of these new kicks might suggest to some? Or not even worth discussing?"
Writing for Your Black World, Dr Boyce Watkins, who also blogs for Huffington Post, said: "Shackles… the stuff that our ancestors wore for 400 years while experiencing the most horrific atrocities imaginable, most of which were never documented in the history books and kept away from you in the educational system, all so you would be willing to put shackles on your ankles today and not be so sensitive about it."
While accepting that some would accuse him of overreacting, Dr Watkins, who is a Professor at Syracuse University, adds: "There is always a group of negroes who are more than happy to resubmit themselves to slavery.
"I am offended by these shoes because there is nothing funny about the prison industrial complex, which is the most genocidal thing to happen to the black family since slavery itself."
Adidas provided the following statement to Huffington Post UK:
The design of the JS Roundhouse Mids is about nothing more than the designer, Jeremy Scott's, outrageous and unique take on fashion and has nothing to do with slavery. Jeremy Scott is renowned as a designer whose style is quirky and lighthearted, and his previous shoe designs for adidas Originals have, for example, included panda heads and Mickey Mouse. Any suggestion that this is linked to slavery is untruthful.
What do you think of the JS Roundhouse Mids?