The wife of a man with locked-in syndrome who is fighting for his right to die at the High Court said on Tuesday there will be "no happy endings" to the case for her and her daughters.
Three judges in London will hear an action brought by Tony Nicklinson, 58, from Melksham, Wiltshire, who suffered a catastrophic stroke in 2005 while on a business trip to Athens, which left him paralysed below the neck and unable to speak.
Nicklinson, who communicates by blinking or limited head movement, sums up his existence as "dull, miserable, demeaning, undignified and intolerable" and wants a doctor to be able to end his life lawfully.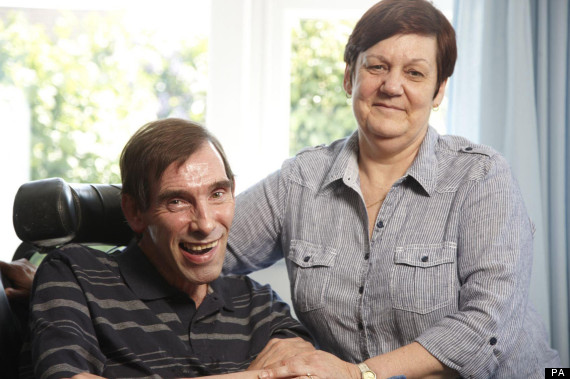 Nicklinson and his wife Jane
Speaking before entering the Royal Courts of Justice, Nicklinson's wife Jane, 56, said: "We are just really happy that the time has come for Tony to get heard in court and we're just hoping for a good outcome."
But she acknowledged: "Whatever happens, there's no happy endings in this one."
ON THE BLOG: 'Let Our Dad Die' - One Family's Fight for Assisted Dying
Nicklinson recently joined Twitter, where his case and the issues surrounding it have attracted widespread interest from thousands of followers, but his wife said it would not change his mind.
She said: "Yeah, it's amazing. He's really enjoying it, I think. I didn't think he would but he's having a great time and he's got over 25,000 followers now.
"It's a little bit of a distraction for him at the moment but it wouldn't be enough (to change his mind).
Asked how Nicklinson felt about not attending court, she said: "He's disappointed but he understands it's just too difficult, it's too long a day for him."
ON THE BLOG: Crossing the Rubicon: Tony Nicklinson's Assisted Suicide
The Nicklinsons' daughter Lauren, 24, said: "I think for us, because we knew the person that dad was before this, it makes it easier to accept. I know that if me and (sister) Beth were in that position, he'd be fighting for us the same way that we are fighting for him.
Asked about the landmark nature of the outcome of the case, Miss Nicklinson said: "For us, it's about dad. We appreciate we'll have impacts on other people - hopefully, we're going to give other people in dad's situation their similar rights as well - but for us three, it's about dad."
Her sister Beth, 23, said: "We always knew he'd feel like this so it didn't come as a shock that this is the point that it's come to."