Ursula Andress's bikini from her Dr No beach scene will join three more of the most famous swimsuits from the 007 movies in an exhibition to mark 50 years of the films.
They will be displayed alongside Halle Berry's two-piece from Die Another Day and a recreation of Sir Sean Connery's shorts from Thunderball.
London's Barbican Centre has been given unprecedented access to the archive of Eon Productions for its two-month exhibition, Designing 007: Fifty Years Of Bond Style.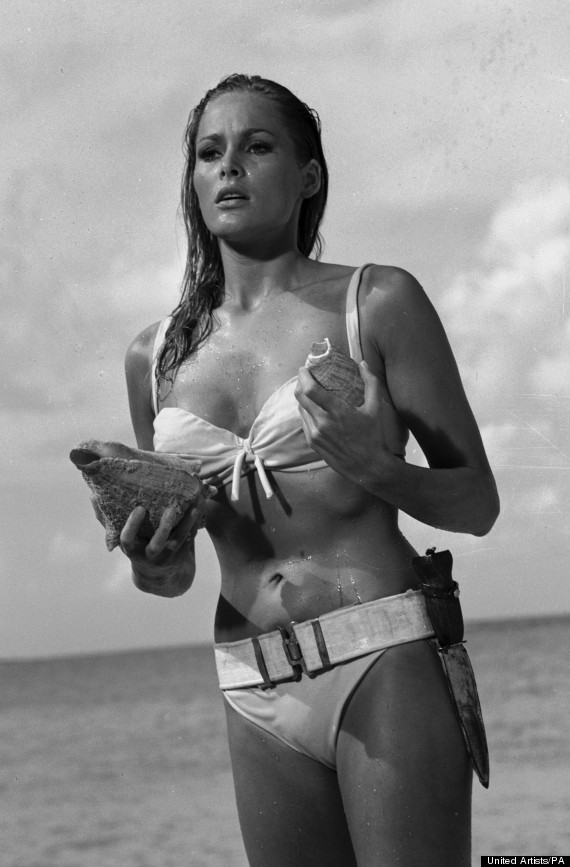 Sea-ing is believing: The famous beach scene in Dr No featuring Ursula Andress
Curators previously announced they would be showing the sky blue trunks worn by Daniel Craig as he emerged from the sea in his Bond debut, Casino Royale.
More than 400 Bond items will be brought together for the exhibition, opening on 6 July, with weapons such as Scaramanga's golden gun, Oddjob's deadly bowler hat and Rosa Klebb's flick-knife shoes.
Vehicles and gadgets will include Bond's 1964 Aston Martin DB5 and the attache case featured in From Russia With Love. Roger Moore's white tuxedo from Octopussy and space suit from Moonraker are also to feature. James wanted to Bond with her: Halle Berry in Die Another Day
The exhibition, guest-curated by fashion historian Bronwyn Cosgrave and Oscar-winning costume designer Lindy Hemming, will tour internationally.
Further details are at www.barbican.org.uk/bond.
The latest Bond movie, Skyfall, again starring Craig as the suave agent, is in production and due for release later this year.