Here's another in our occasional series of Brits to watch... this week, Ashley Madekwe:
"I was in McDonald's in Earl's Court, and had my handbag stolen. I just felt completely violated."
Ashley, British actress on the rise with a starring role in E4 breakout hit Revenge, describes how she felt when she was herself the target of crime, as her film Victim appears in cinemas this week.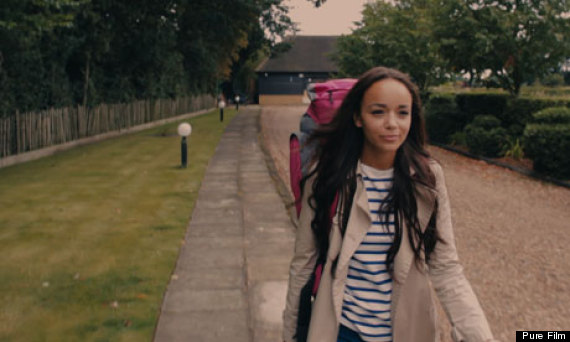 Ashley Madekwe in Victim
Victim tells the story of Tyson, a young man enjoying a lifestyle supported by the profits of crime, but inspired by his romance with the less worldly Tia (Ashley's role) to look for another, less destructive existence. The film shows both sides of the story, giving the perspective of both perpetrator and victim of criminal acts, but Ashley describes it as "a hopeful tale, which will hopefully inspire people to realise they're not trapped in the direction they might be heading".
Alongside Ashley in the film is David Harewood, Brit actor made good with massive recent success in Homeland, but Ashley's not doing so badly herself.
Although this is her first film role apart from a two-week stint on Storm Damage (2000), she has become a "face" with increasingly high-profile TV projects - Secret Diary of a Call Girl with Billie Piper, Bedlam with Jack Roth and Hugo Speer - and most recently, as Ashley Davenport in Revenge.
Her on-screen success has had some interesting side-effects. As the American-based projects came calling, so Ashley had to relocate to New York pretty quickly in 2009, along with boyfriend and cat, where she soon succumbed to the lure of Manhattan fashion, and created her own fashion blog.
She was surprised by this herself: "New York's attention to clothes kind of sucks you in, and my husband-to-be is a photographer so, before I knew it I was creating my own personal style guides, and now it's a fully-fledged blog." (Ashley has very recently married her Secret Diary co-star Iddo Goldberg in the British countryside.)
And what kind of attention is Ashley getting herself, since becoming one of those faces you might recognise, without being able to pin a name to?
"It's great. I have a very famous friend who can't bear it (I'm guessing this is probably the famously shy David Schwimmer who recently gave a best man's speech at Ashley and Iddo's wedding, in an incongruous partnership with... David Walliams), but I love hearing that Revenge is 'trending', and it's exciting being recognised. It happens more in America than in the UK, except for a bunch of Saudi Arabians no less, who managed to spot me just when I was in a department store trying on different foundations."
Dream job? "Easy - playing Mariah Carey. Now there's a proper star."
Ashley Madekwe is in Victim, now in cinemas nationwide. Trailer below...