Four people have been charged following a climate change protest outside Buckingham Palace that saw activists chain themselves to the gates.
A teacher and three unemployed people are accused of breaching Royal Parks regulations and the Serious Organised Crime and Police Act.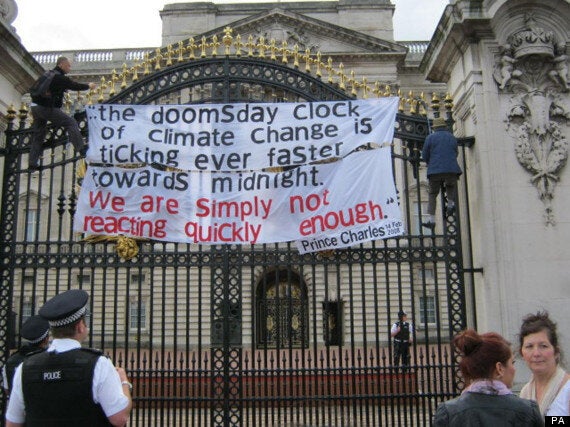 A quote from Prince Charles draped over the Buckingham Palace gates
Peter Coville, 45, from Riverside Court in Reading will appear in court next month alongside Fiona Brooke, 23, of Billingshurst Road in Horsham, Sussex, Cyril Zeldine, 33, of John Islip Street in Pimlico, south west London, and Philip Thornhill, 57, of Rockmount Road in Woolwich, south east London, the Metropolitan Police said.
The four were arrested yesterday after demonstrators who said they represented the Climate Siren group scaled the Palace gates and secured themselves to the railings.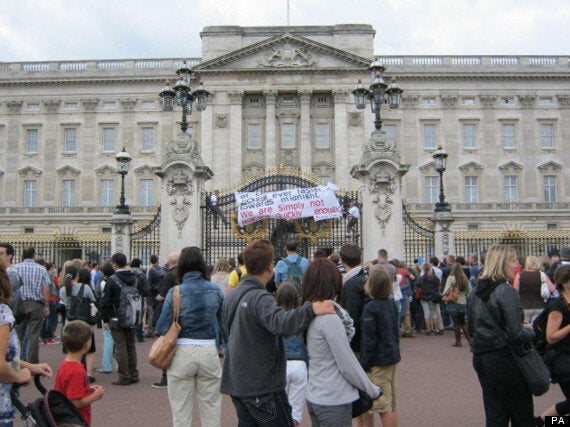 Protesters from the Climate Siren group scaled the gates of Buckingham Palace
The protest came the day after the Rio+20 global conference on sustainable development in Rio de Janeiro, Brazil, came to a close.
The group described their actions as "an act of civil disobedience designed to demand urgent, concerted and meaningful action to tackle the unprecedented national and global emergency presented by the catastrophic destabilisation of global climate and timed for the day after the end of the Rio+20 Earth Summit in Brazil."
"Bearing in mind the message published at the end of the three day conference I convened in London three years ago, you will not be surprised to hear that the message of your event today - that there has to be proper recognition of the peril we are in - is one I agree with wholeheartedly. "
They were bailed to appear at London's Westminster Magistrates' Court on July 10.