Germany has been left reeling after it was revealed half of its schoolchildren do not realise Hitler was a dictator, while a third believe he protected human rights.
The shocking statistics also revealed a further two thirds were unsure as to whether the socialist East German Government, which was established by the USSR and collapsed in 1989, was a totalitarian one.
Only around half of the 7,400 students surveyed knew the former West Germany government was a democratic state, while 40% were unsure whether the current united German government was democratic.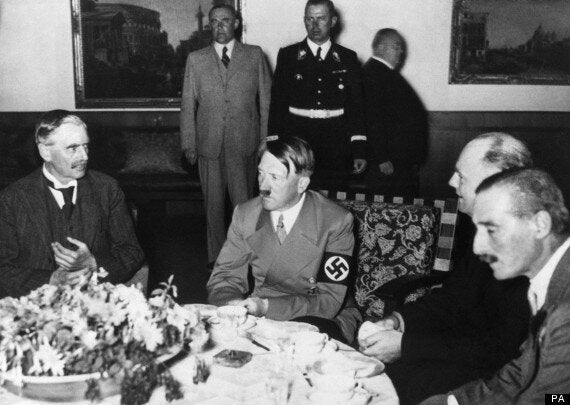 Adolf Hitler with Neville Chamberlain in 1938
Klaus Schroeder, from the Free University in Berlin, said: "These students have almost no political knowledge at all. They have no idea about words like "Meinungsfreiheit" [freedom of speech] nor of concepts like human rights," the Times reported.
"The schools really should take action."
The students most able to differentiate between dictatorship and democracy lived in the former eastern states of Thuringia and; those with the least were residents in the western state of North Rhine-Westphalia, the study found.
"Particularly low levels of knowledge are apparent in students with DDR-parents who go to school in the West while those with federal republic parents are by far the more knowledgeable students," the report states. "The lowest level of knowledge are young people with at least one foreign parent."
The study was based on students aged between 15 and 16, as well as additional interviews with more than 2,000 students visiting war memorials in Germany.
The report also revealed around 40% could not distinguish between Nazism, the German Democratic Republic (GDR) and the Federal Republic before and after the reunification of Germany.
The study was published as part of the "Studies of the SED state research group at the Free University of Berlin.