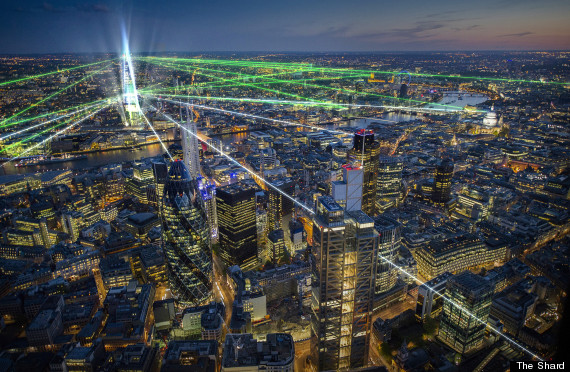 Millions have already seen the gleaming spire rising majestically above the London skyline, but on Thursday The Shard – the tallest building in Western Europe – will be officially inaugurated.
And the organisers promise it'll be a grand celebration.
They boast that a spectacular light and laser show will reach out from The Shard to other major landmark buildings across the capital, including the London Eye, the Gherkin and Tower, at approximately 10.15pm.
This will be streamed live at www.the-shard.com. Build it and they will come: For £25 a pop
The building, which stands at 310m (1,016 ft), will be formally opened by Sheikh Hamad Bin Jassem Bin Jabor Al Thani, Prime Minister of the State of Qatar - Qatar is a majority stakeholder - and the Duke of York.
Commenting on the inauguration, Sheikh Al Thani said: "Standing at almost 310 metres, The Shard will be one of the tallest buildings in Western Europe. For me however, the height of the Shard is only secondary. What is special is the solid and continuing relationship between two nations – Qatar and Britain – which has been an important factor in completing this project."
He added: "The Shard has already become an important symbol for London – a symbol of our close relationship – rooted in the foundations of economic growth, social development and mutual trust and goodwill."
The Shard's 95-stories will become a "vertical town" comprising office space, residences, restaurants and the five-star Shangri-La Hotel.
It's rumoured that some of the penthouse apartments at the top will sell for millions of pounds.
The building will also house the capital's highest public viewing gallery, The View From The Shard, which will offer 360-degree views of London, stretching for over 40 miles.
This opens on 1 February 2013, but will cost £24.95 for adults, which is quite steep.
By comparison it's around £15 for a ticket to the top of New York's Empire State Building and Rockefeller Center, both of which would tower over The Shard.
The London Eye, meanwhile, costs between £15 and 18.90 for a standard adult ticket, while many other attractions in the capital, such as The British Museum and Science Museum are free to enter.
The Shard claims, however, that visitors who venture to the top will have a "profound experience".
A spokesperson for The Shard argued that the price for the viewing gallery is "competitively priced".