Formula One world champion Sebastian Vettel is still the man to beat at this weekend's British Grand Prix, according to racing legend, Sir Stirling Moss.
One of Britain's greatest all-round racing drivers, Sir Stirling said that the double world champion was his tip to take the chequered flag at Silverstone on Sunday.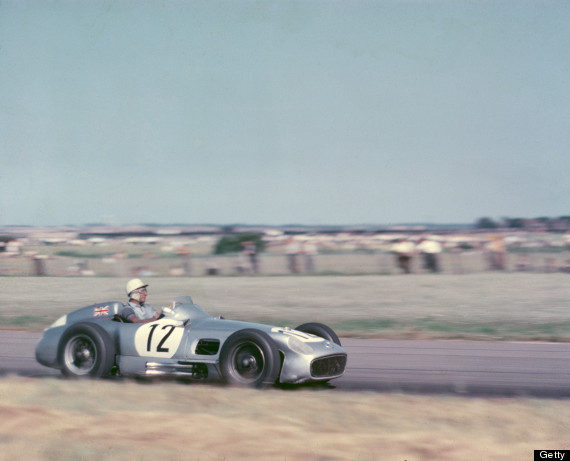 Stirling Moss on his way to victory in the 1955 British Grand Prix at Aintree
Speaking exclusively to The Huffington Post UK, the man many regard as the greatest driver never to have won the Formula One title (he was runner-up four times), Sir Stirling also said he thought Britain's Lewis Hamilton has the edge over team-mate Jenson Button as the season approaches its half way mark.
Now aged 82, the former F1 driver took 16 grand prix victories from 66 starts, including the British and Monaco races, and only stopped racing competitvely last year. As well as talking about the current crop of F1 drivers, he gave some insight into his time in the sport.
See what he had to say in the two videos above.
The British Grand Prix weekend begins on Friday with practice sessions, folllowed by qualifying on Saturday and the race on Sunday.