Celebrity chef Jamie Oliver smiled through the rain as he helped the Olympic torch on its way on Saturday.
The 37-year-old champion of healthy eating for children carried the flame through Newport - the Essex village where he went to school - on day 50 of the relay.
Watched by his wife Jools and family, he said: "I can't believe how much it's raining but it's great to be here in my old town and this is a real privilege.
"I'll run past my old school and finish at the pub where, to be honest, I'd like to be right now."
Oliver was handed the torch by David Pickup, 34, from Thetford, Norfolk.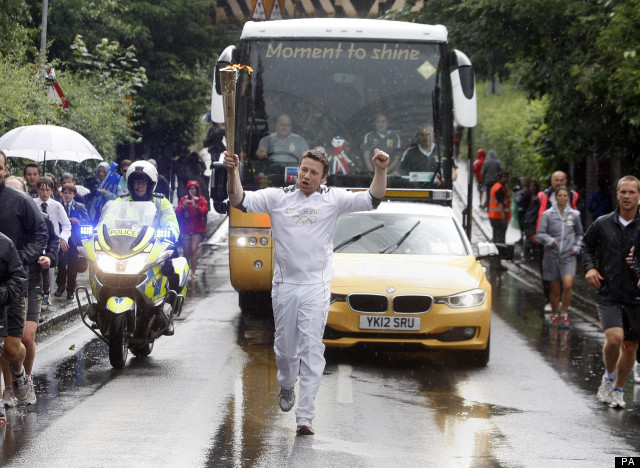 Jamie Oliver carries the torch through the town he attended school in
Mr Pickup was chosen as a role model for young people in his community.
Oliver lives in nearby Clavering with his wife Jules, daughters Poppy, Daisy and Petal, and son Buddy, while his parents own a pub and restaurant nearby.
He studied at Newport Free Grammar School.
A spokesman for Samsung, who invited Oliver to take part, said: "He is an inspirational figure and has put forward many deserving youngsters himself, who have now become and are set to become torchbearers elsewhere in the UK."
The Olympic torch was behind schedule after being delayed by a road accident.
The torch first went on a voyage through rapids before being handed on to the chef
The relay convoy was delayed by about 15 minutes after a crash between two motorbikes which were travelling in the opposite direction as the convoy passed Chelmsford.
A spokesman for Essex Police said the torch was continuing on its journey following the accident on the A414 near Hylands Park, Writtle, at 7.40am.
The man and woman involved in the crash were taken to hospital with suspected broken bones.
The relay also took to the water today - first on a white water raft at the Lee Valley Games Venue at Waltham Cross.
It was taken for a ride on the venue's slalom course by British junior team canoeist Zachary Franklin, 20.
Later, the relay will take a more sedate punt ride as it winds its way to its last stop of the day in Cambridge.