Did you know that there are approximately six million Mormons, including current high-profile presidential candidate Mitt Romney, living in the US and Canada, as well as eight million others dotted worldwide?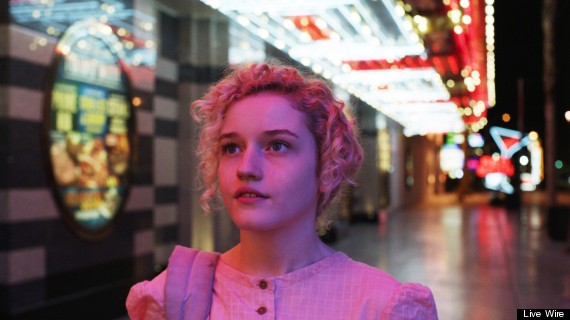 Girls like Rachel in Electrick Children are more common than we know
One of these until three years ago was writer/director Rebecca Thomas, who has made a film, Electrick Children, about "what I knew, basically" - the story of a young girl, Rachel, who has grown up in a fundamentalist community in Utah, and discovers a secret tape with rock music on it. When she becomes pregnant three months later, she is convinced that the two events must be in some way connected, so leaves her community behind to search for the man on the tape. In this quirky, sometimes comic drama, she heads to the nearest city, which happens to be Las Vegas.
Thomas is keen to point out that Mormonism sits on a sliding scale of day-to-day living that we might consider 'normal' (whatever that is). She herself wore jeans and went to film school, so not every girl is brought up in the kind of extreme community we see in the film.
Nonetheless, Thomas - who gave up being a practising Mormon three years ago - is very well placed to describe how many communities "eschew the trappings of modern life, because only then can they feel closer to god".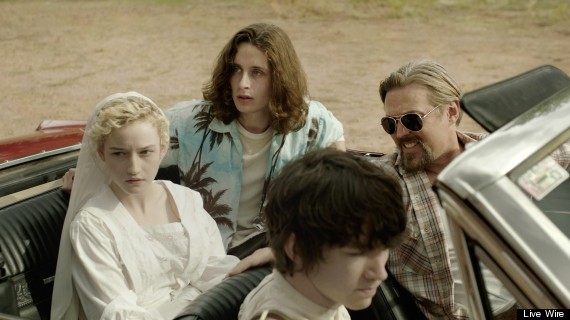 Leaving her community behind means Rachel falls in with some wayward companions
What happens all too often is something we can have little idea about in the UK, but is nonetheless a problem stretching beyond Thomas's on-screen make-believe. "These girls are so vulnerable that when they run away and leave their homes behind, they often turn to drink and drugs and fall into what we might call bad crowds.
"This has latterly been recognised with half-way homes being built to protect them... and don't forget the boys, who can be thrown out arbitrarily, because they're not often needed."
"They have great grief at leaving their families behind," she explains, "but that is the price of freedom."
This is all described by Thomas in matter-of-fact tones that belie how astonishing it all sounds to untrained British ears. So is there a bigger truth that transcends this extraordinary setting?
"It's about the difference between a community that you're born into, and one you make.
"Also, Rachel's pursuit, her underlying faith in something, whatever that is, can be inspiring and hopefully fortifying."
Electrick Children is in UK cinemas tomorrow. Watch the trailer below...