Ever wondered what would happen if you applied for a job online and accidentally attached a photo of Nicolas Cage grinning manically instead of your CV? Well, wonder no more, because 20-year-old Canadian jobseeker Vanessa Hojda has done it for you.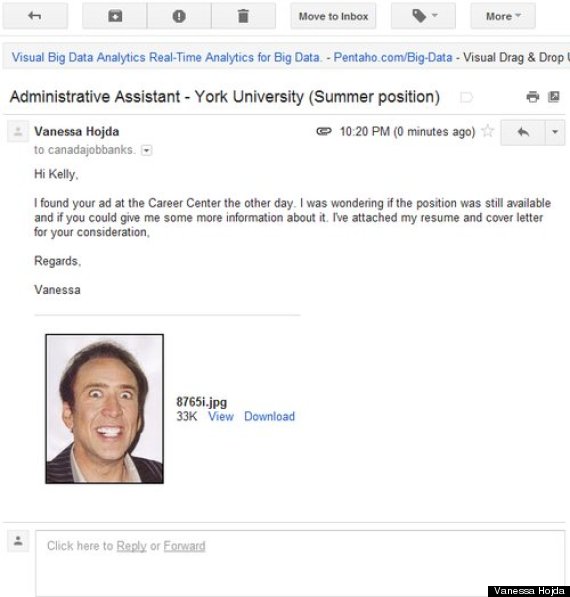 Posting the image above to her Tumblr blog with the words ""I ACCIDENTLY SENT MY POTENTIAL FUTURE BOSS A PICTURE OF NIC CAGE RATHER THAN MY COVER LETTER + RESUME, WHICH HAS A ZIP FILE TITLED WITH A BUNCH OF NUMBERS LIKE THE JPC I ACCIDENTALLY ATTACHED OH MY GOD," she swiftly became a viral sensation - and now, as it turns out, a viral sensation with a happy ending.
After her name was fired accross the internet approximately eight squillion times, two companies have now offered her a job via her Facebook page, she's been interviewed by The Washington Post and even appeared in a photoshoot for the Toronto Star.
Well done internet, you've made our day yet again. Much obliged to you. In fact, this good news story has made us smile almost as much as the time Nic Cage covered John Cage, or even the time when Nic Cage met his waxwork double - pictures of which you can find below...