Violence broke out on Thursday night after loyalist and republican parades through North Belfast.
A burning car was driven at police lines, with water cannon and hundreds of riot police deployed at the Ardoyne sectarian interface.
Bottles and other missiles were thrown while republicans and loyalists exchanged taunts.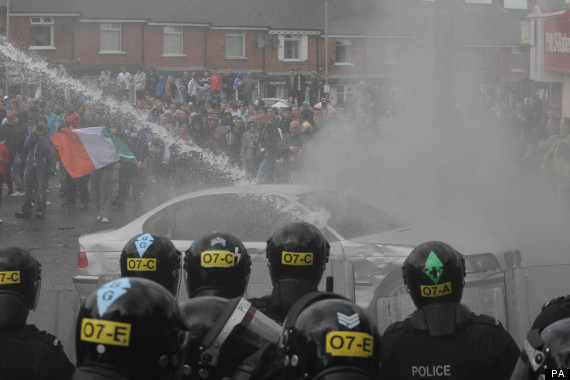 Nationalist protesters clash with police in Ardoyne in north Belfast after an earlier Orange parade returned back past shops in the area
Trouble has erupted for years at the enclave after the Twelfth of July parade, the culmination of the Protestant Orange Order's marching season.
About 15 Orangemen took part in a silent token parade past the contested shopfronts, jeered by nationalists and cheered by loyalists. There was no violence.
Rioting with republicans attacking police lines then erupted and continued for several hours.
The republican parade, involving several hundred people, was delayed because of the violence but eventually proceeded.
Two water cannon vehicles sprayed troublemakers hemmed into a tight residential street close to the city centre of red-brick terrace houses.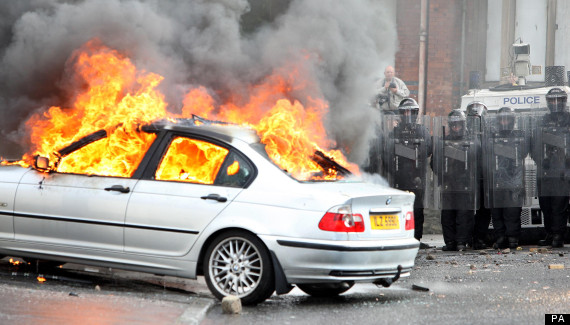 A car is set on fire by nationalist protesters in Ardoyne
A flaming silver BMW spread black smoke throughout the area.
The republican parade was halted with the agreement of the parade organisers, the Greater Ardoyne Residents' Collective.
Lines of police accompanied them past the loyalist interface.
The area was strewn with broken glass.
Loyalist protesters gathered a short distance away, separated by a line of police vehicles.
Rioters let off fireworks towards police, and a petrol bomb also exploded.
Democratic Unionist MP Nigel Dodds said he was depressed by tonight's violence, which he blamed on dissident republicans.
He criticised the Parades Commission's decision to allow the republican parade.
"The Parades Commission pandered to this outfit. They are incapable of a resolution because they only want violence, they don't want settlement, they just want to derail the peace process," he said.
A PSNI spokeswoman said the force was dealing with "significant disorder" at Brompton Park.
She added that four officers had been injured but their condition was not life-threatening.
One baton round was fired.
Assistant Chief Constable Will Kerr said the earlier Orange Order parade passed off peacefully, along with a local residents' protest, in line with their Parades Commission determination.
"Following this, police dealt with some significant but localised disorder in the Brompton Park and Balhom Road area and water cannon was deployed," he said.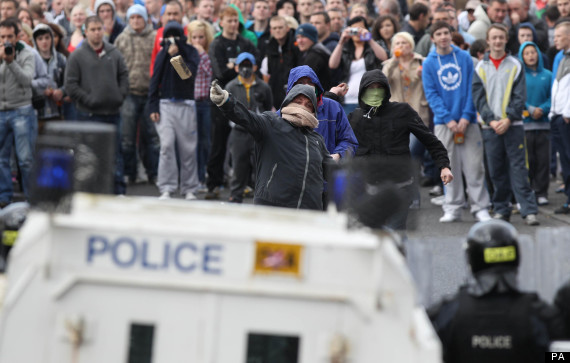 Nationalist protesters clash with police
The Greater Ardoyne Residents Collective (Garc) nationalist parade was delayed at Estoril Park by agreement due to a public safety issue caused by the significant disorder and a burning vehicle. Once this was cleared, it continued on to the Crumlin Road.
"Missiles were thrown from both sides as the Garc parade passed the Ardoyne shop fronts but both the parade and the protest dispersed," the senior officer added.
"Police would like to take this opportunity to acknowledge the positive efforts of all those parading, protesting and marshalling today."
He urged all individuals and communities affected to respond to developing events in a calm and responsible manner.
"Violence has serious and unwanted consequences for us all and we will robustly investigate all incidents of disorder."