Russell Mark has blasted Australian Olympic officials after he was informed he would not be allowed to share a room with his wife Lauryn at the London 2012 Games.
Gay couples however may be allowed to house together in the same accommodation by the Australian Olympic Committe, and Mark is adamant his wife's photo shoot for the cover of lads' mag Zoo has been held against the couple.
He told News Limited:
"The stupid part of this, which I have argued to them, is that there are tons of gay couples on the Olympic team who will be rooming together so we are being discriminated against because we are heterosexual.

"Every couple, whether they are married or de facto should have the AOC trying to bend over backwards to accommodate their needs.

"They are p***** with my stance on sleeping tablets and what pissed them more than anything else is the photo shoot.

"It's just too hard for them. What I am asking them isn't too hard but its obvious the AOC have a problem with it."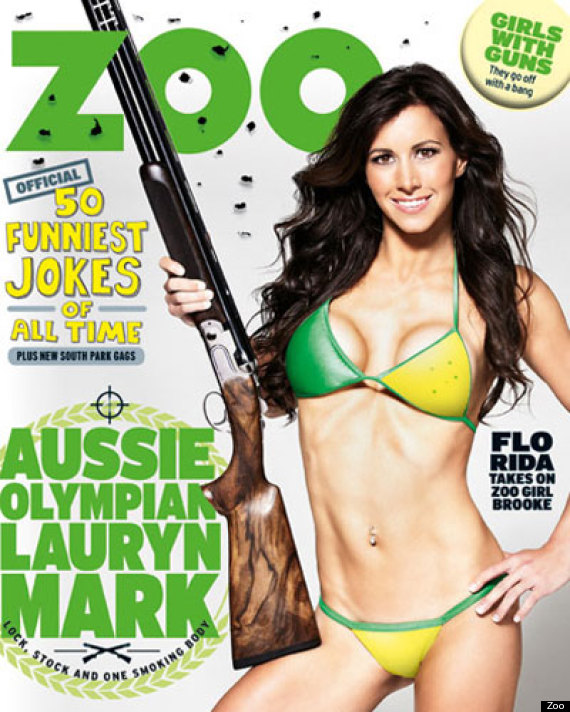 Lauryn Mark on the cover of Zoo
An AOC spokesman told The Daily Telegraph it was the decision of shooting officials to allocate rooms in the Olympic village.
Lauryn Mark, born in the United States but representing Australia, will be competing in the skeet shooting event at the Games. She confirmed proceeds from her photoshoot would be going to Royal Children's Hospital.
However her pictures appear to have hit a nerve in her homeland after a snapshot of swimmers Nick D'Arcy and Kennrick Monk was published recently.
The duo will be sent home immediately after their events at the Games, having been photographed in a US gun shop in June, which was subsequently posted on Facebook.