A former exotic dancer and author who lifted the lid on the illegal and dangerous world of butt injections has crossed the pond to show off her wares - and issue a warning to others considering the same embellishment.
Vanity Wonder, who has spent around £10,000 ($15,000) on the injections - known as butt shots - brought her curvy derriere to the This Morning sofa on Monday.
Wonder, who details her addiction and experiences in Shot Girls, chatted to Eamonn Holmes and Ruth Langsford about the five years she spent plumping up her posterior with injections which are banned in America and the UK.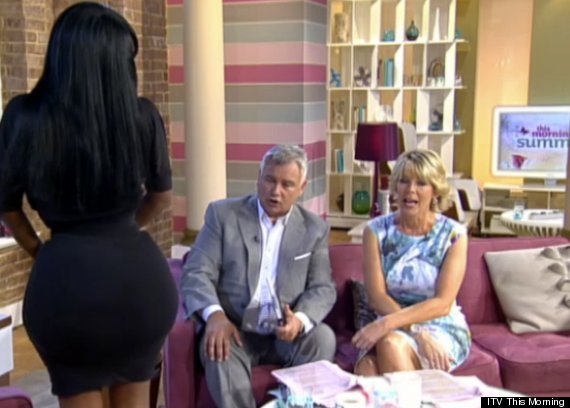 Eamonn Holmes and Ruth Langsford meet Vanity Wonder and her buttocks
Thankfully, Wonder, whose measurements are an astonishing 34-23-45, lived to tell the tale, despite developing an infection that left her bottom "looking like a bag of oranges".
Of the addiction which began during her days as a dancer, Wonder told how she jumped from an "average" of nine injections (costing £324 each or $500) of silicone, plugged with super glue in each buttock, to an eye-watering 120 jabs for each cheek.
Admitting: "It wasn't my goal to look this big", the mother-of-two revealed she had to have yet more injections of silicone to "pad out the bumps" after developing a painful infection.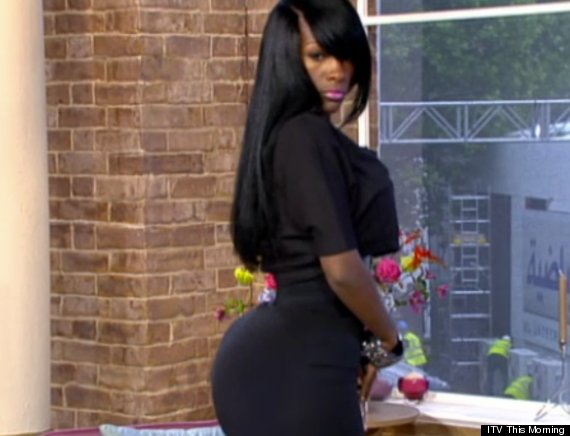 Wonder shows off her 34-23-45 figure
Wonder eventually gave up dancing and began booking appointments for women who wanted the same black market treatment. It was after a 70-year-old customer fell into a coma that she was finally forced to kick the habit.
She told Eamonn and Ruth: "I almost went to jail.
"Even the infection didn't make me stop. Nothing made me stop until I was faced with losing my kids. If I had been smart enough I would have realised these shots running through your body can take you away just as quick.
When asked if she likes how she looks, Wonder replied: "I'm very happy that I didn't die. I did so much dumb stuff with my body. I'm happy when I see myself because I'm still living."
Scroll down for more pictures and video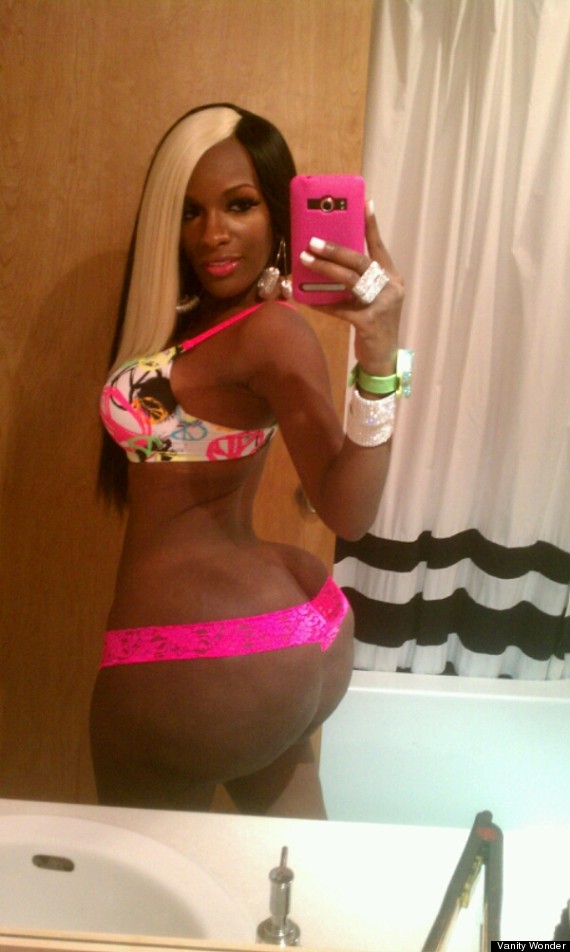 Wonder details her five-year addiction to 'butt shots' in her new book Shot Girls
Huffington Post UK first reported on Wonder's mind-boggling story in June following the release of her book, which came in the wake of a series of cases where bogus doctors have injected women with paraffin, cement and even tyre inflation spray.
In a chapter from the book available to read online, Wonder recounts her first foray into the world of over-the-top buttocks.
Explaining she had "always wanted a better body, and on top of that, I liked the compliments that I'd got when I was a little thicker," she decided to take the plunge along with fellow dancers Onyx and Denim in November 2006.
SEE ALSO:
Norma Stitz, Meet Th Woman Whose Breasts Each Weigh More Than A Four-Year-Old Child (PICTURES, VIDEO)
The girls meet with the mysterious "Luxor" in a Detroit hotel and are instructed to rub numbing ointment into their buttocks before covering them in saran wrap.
Of the first injection, Wonder recalls: "The poke hurt a little but it was nothing compared to the feeling of the liquid flooding into my butt. It was a sharp pain that shot down my leg, into my knee and shin, then back again. I've never been struck by lightning but I'm pretty sure that's what this felt like. I had to breathe."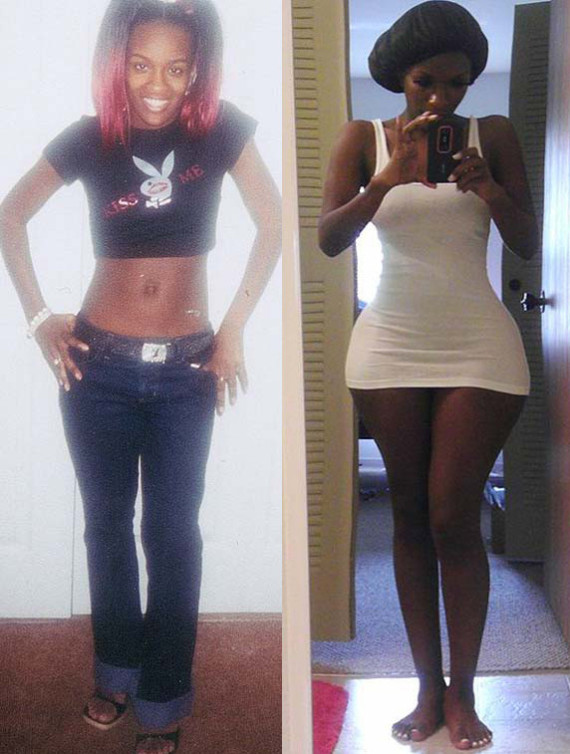 The way she was (left) and showing off her curves (right)
She admits none of them had any idea what they were being injected with and recounts that the needle holes were then plugged with superglue.
She says she was later informed the substance was soybean oil, and after one further treatment reverted to different practitioner, who used medical grade silicone.
Despite the pain and the cost, Wonder recalls feeling disappointed that no one had noticed any difference in her shape and decided to go back for more, lamenting: "I was still a popular nobody."
By March, she was hooked: "Competition is one hell of a drug. I felt like with me getting pumped I was going to have a 1 up, but not now. My competitive nature was revving up. Nobody likes to lose. "
The trend for "Bootylicious" curves continues to flourish with stars such a Beyonce, Kim Kardashian and J-Lo leading the way. Sadly, the desire to emulate these stars' natural assets can have tragic results.
In 2011 British university student Claudia Aderotimi travelled to Philadelphia to undergo an illegal cosmetic buttock treatment in a budget hotel room. The aspiring hip-hop dancer began to suffer chest pains and was rushed to hospital where she later died.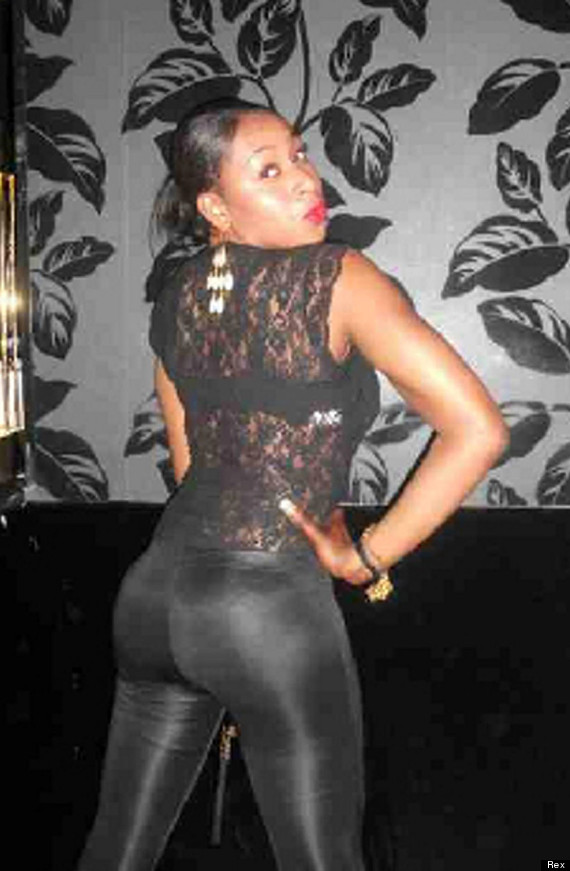 Claudia Aderotimi died after undergoing an illegal cosmetic buttock treatment
These days Wonder is keen to combat what she terms "misconceptions and misrepresentations" surrounding the procedure and the reasons why women will risk infection and even death in the quest for curves.
Speaking about the persecution she has experienced because of her extreme shape, she told theSkinNYC: "Butt shots are a modern day witch hunt.
"Butt shots and body enhancements are quickly becoming the majority, not the minority, definitely.
"This is something that's not going away, like being gay, like big hair.
"Instead of judging it and ostracising it you should just respect it because it doesn't have anything to do with you. If you don't wanna get them, then don't get them.
"It's utterly ridiculous that so many people are so worried about who gets butt shots and who doesn't than who's running for president."
She told the Mirror: "It does affect me looking like this. I get made fun of in the street, but all I care about now is looking after my two sons."
The 30-year-added: "It seemed like a good idea at the time, I was young and stupid."