The bodies of three children and their father who went missing last week have been found at a remote beauty spot, in what police have described as a 'tragic accident.'
Gloucestershire Constabulary said officers searching for Ceri Fuller and his three children, who went missing from his home in Milkwall, near Coleford, last week, discovered four bodies near Pontesbury, Shropshire.
An officer from West Mercia Police made the grim discovery shortly before 10am today in an isolated area of woodland, reportedly after Mr Fuller's vehicle was found nearby.
Speaking at a press conference at Shrewsbury Police Station, Detective Chief Insp Neil Jamieson, of West Mercia Police, said officers were not looking for anyone else in connection with the incident. A murder investigation has been launched.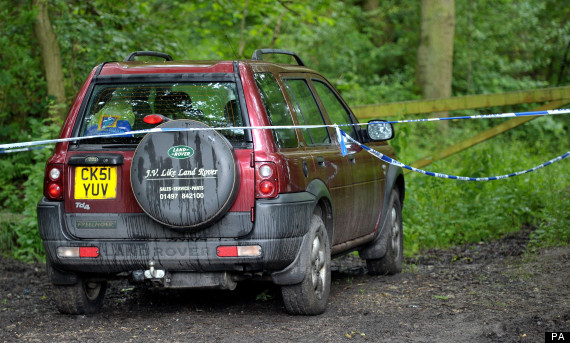 Ceri Fuller left his home ilast Thursday with his son Sam, 12, and daughters Becka, 10, and Charlotte, six
"
Mr Fuller, 35, left his home last Thursday with his son Sam, 12, and daughters Rebecca, eight and Charlotte, seven, who is also known as Charlie.
Gloucestershire Police appealed for sightings of the family, saying they were believed to have been travelling in a red Land Rover Freelander, registration number CK51 YUV.
The Birmingham Mail reported that the three children all died from stab wounds after being found on Monday morning in a wooded area in Pontesbury Hill, eight miles from Shrewsbury.
The newspaper reported that Mr Fuller also died after apparently falling from a cliff at a quarry in the area.
In a statement, West Mercia Police said: "West Mercia Police are investigating the deaths of an adult and three children after the discovery of four bodies in the Pontesbury area this morning.
"The deputy coroner for Shropshire, Andrew Barkley, has been informed and officers have sealed off the area. Forensic examinations of the area will take place in due course."
West Midlands Ambulance Service said two rapid response vehicles, an ambulance, a paramedic officer and the Midlands Air Ambulance based at RAF Cosford attended the scene.
An ambulance service spokesman said: "Unfortunately, it quickly became apparent that nothing could be done to save four people found at the scene, and all four were confirmed deceased."
Neighbours of the family in Milkwall, near Coleford, Gloucestershire, described their shock.
Janice Ayres, who lives next door in Station Road, said: "Very, very sad, I just cannot say any more.
"I didn't even know her name (mother of children).
"I have children of my own and I would just be devastated.
"I am surprised. They kept themselves to themselves.
"It's so sad for three young children.
"Being out at work all day you don't really know your neighbours.
"We would speak if we saw each other in the garden but we never socialised together.
"They were no trouble at all. They've lived here about a year and as far I know they bought the house as we knew the man who lived there before and he was selling it.
"It is dreadful really to think about it. It's the way life is these days.
"You just live your own life."
Another neighbour, who did not wish to give their name, added: "They hadn't lived here all that long.
"They kept themselves to themselves."
The two schools that the three children attended also paid tribute.
Mrs Jan Wagstaff, headteacher of St John's Church of England Primary, said: "Rebecca and Charlotte were absolutely delightful children and a pleasure to have in school.
"Sam was also a pupil here before he moved on to Lakers.
"He was a lot of fun and always had a ready smile. They will all be very sadly missed.
"Our thoughts and prayers are with their family."
Alison Elliott, head of Lakers School, said: "We are desperately sad to hear the family are having to face such a dreadful situation.
"Sam was a well loved member of our extended family here at Lakers.
"Our thoughts are with the family at this very tragic time.
"We have arrangements in place to support students, staff, friends and family at this very difficult time."