Twenty Twelve was triple medal special last night.
Firstly, it's always an easy watch, with the effortless discomfort on show by Ian Fletcher and his team as they continue to pave their road to Olympic deliverance committee hell with noble, municipally beneficial intentions.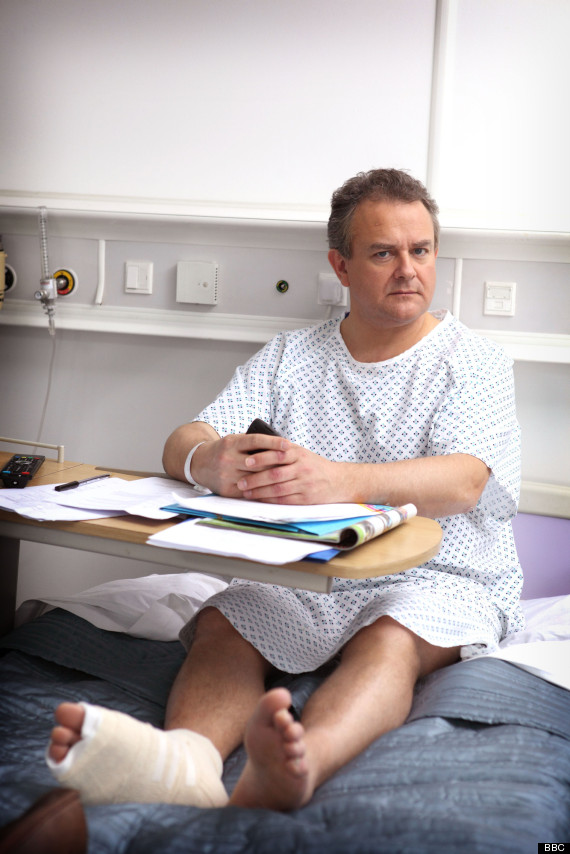 Ian Fletcher - 24 days to go, shot by a starter pistol, in hospital, about to be divorced and no PA - apart from that, it's all going well...
Secondly, it was even better fun watching the increasing panic as the Games close in, and we viewers count the days ourselves. The secret of comedy being timing, commissioners have pitched this perfectly with the finale on next week.
Finally, giving us that extra magic tingle was watching these frantic denouements in the light of the GS4 debacle, and wondering just how realistic Twenty Twelve's chin-scratching, ill-concealed panic-stricken, last-minute face-saving decisions really are.
Last night found chef du corps Fletcher (Hugh Bonneville) in less than ideal circumstances, considering the Games were round the corner - in hospital after an unfortunate incident with a rogue starter pistol, wondering where to post his divorce papers, and now learning that his slippery PA Daniel had just abandoned him in favour of the higher temple of "Seb".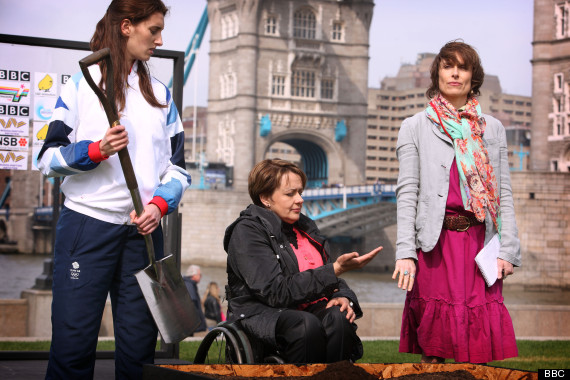 Was this the Inclusivity Committee, or the Diversity Committee, or the Positivity....?
The casual, irreverent references to Lord Coe and his mob of fellow dignitaries are one of the delights of this show ... "Did you read Danny's email?" "Well, he'll just have to have fewer dancers, dancing harder"... "Seb's worried Boris will take over..." "Well, obviously"....
REVIEW - Last Week's Twenty Twelve: Team Race For The Finishing Line
CLICK HERE FOR MORE TV REVIEWS
This episode spent most of its time poking fun at committees - Inclusivity, Diversity, Legacy, Positivity - with narrator David Tennant's final gleeful pay-off, "With three days to go, the Inclusivity Committee are trying to decide what it is they're including," enough to bring tears of joyful recognition to anyone who has ever worked for a big, "creative" corporation.
REVIEW - Last Week's Twenty Twelve: Team Race For The Finishing Line
CLICK HERE FOR MORE TV REVIEWS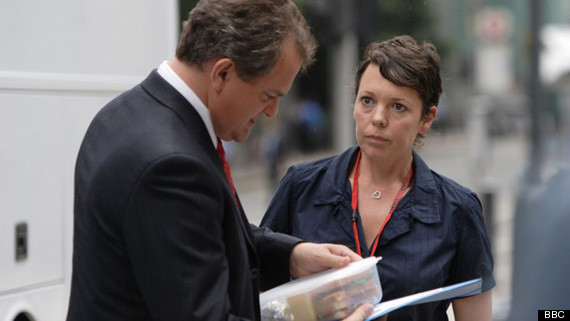 Will Ian and Sally be on the podium together? We'll have to wait until next week's finale to discover
However, the person who has reinstalled herself at the sentimental and practical beating heart of the show is Sally, quietly tending to Ian Fletcher's every need - she wouldn't have left the £3.99 discount price tag on his pot plant, like poor Kay.., "It was £6.99, don't know why it was reduced..." - and growling like a bear when it looked like her boss was in danger of not signing his divorce papers.
It looks like we may be in for a warm, wobbly Tim-and-Dawn-esque romantic payoff in next week's grand finale, because, as Sally told Ian last night, "Certain things need to happen..." and they no doubt will, which is something even GS4 can take to their hearts.
Twenty Twelve concludes next week on BBC2. Some pics of the gang in action below...
Twenty Twelve prepares for the finishing line